Banten Provincial Government Urged to Ask the Continue of the Serang-Panimbang Toll Road
By : Aldi Firhand Alqudri | Sunday, July 23 2017 - 11:31 IWST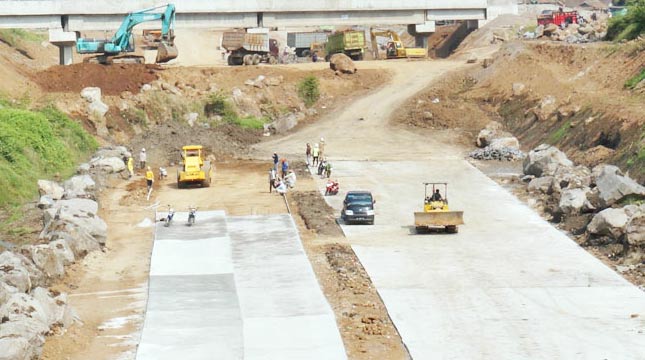 Toll Development
INDUSTRY.co.id - Serang - Banten Regional People's Legislative Assembly asked the Banten Provincial Government to ask the central government about the continuation of Serang-Panimbang toll road development, related to the review of the national strategic project on land acquisition.
"We do not agree if the central government to review the project, in connection with land procurement, Banten Provincial Government should ask for clarity, this development is the central commitment first," said Vice Chairman of Banten DPRD Ali Zamroni in Serang on Monday (16/1/2017 ).
He admitted to disagree related to the central government discourse which burden the budget of Banten budget for land acquisition of Serang-Panimbang toll road of Rp1 trillion.
"I object and disagree, our new budget is now only Rp10 trillion, just double digits, from one digit which previously only Rp9 trillion. Suddenly now there is a central desire for the acquisition of Serang-Panimbang Toll land, which all budgeted by the center, arrived Must be to the area, "said Ali Zamroni accompanied by other members of Parliament Banten from Gerindra faction, Andra Soni.
He questioned the seriousness and central plan for the implementation of national strategic projects in Banten and through Serang City, Pandeglang and Lebak Regencies.
"I agree on a strategic project, but if suddenly there is a change from the budget side I think it is impossible.On our Accelerated Infrastructure Regulation only 7 provincial road segments, to complete one course, KH Hasyim Ashari street, Tangerang City only needs fund Rp600 billion, moreover if sharing with districts / cities, we know the districts that will pass the toll road areas are left behind, to finance their own budget they are inconvenience, "said Ali.
Therefore, Ali will encourage tripartite action between the central, provincial and district / city governments to immediately complete and ensure the sustainability of the national strategic project.
A different statement was conveyed by the Secretary of the Commission V DPRD Banten, Thoni Fatoni Mukhson. According to him, the province has responsibility in the process of accelerating the development of national strategic projects such as Toll Serang-Panimbang.
According to him, whatever the central government decided to do, although there must be a bitter pill for the region.
"Banten must be responsible for the national strategic project We are sharing with the districts / municipalities, not absolute provinces, covering three districts / municipalities for their budgets if they are delegated to the regions," Thoni said.
He hopes the district / city government in the process of accelerating the development of the Serang-Panimbang toll road also play an active role.
"Suppose the composition of the three districts / cities will be 20 percent each and the remaining 40 percent from Banten province, and I will encourage them to be realized," said Thoni from PKB Fraction.
To be noted, the planned development of the Serang - Panimbang toll road length of 83 Km is located in 14 subdistricts, 50 villages / kelurahan and four districts / cities of Serang City, Serang District, Pandeglang Regency and Lebak Regency.