Promote Culture and Arts, Nias Will Hold Ya'ahowu Party 2017
By : Chodijah Febriyani And Aldi Firhand A | Saturday, September 23 2017 - 23:01 IWST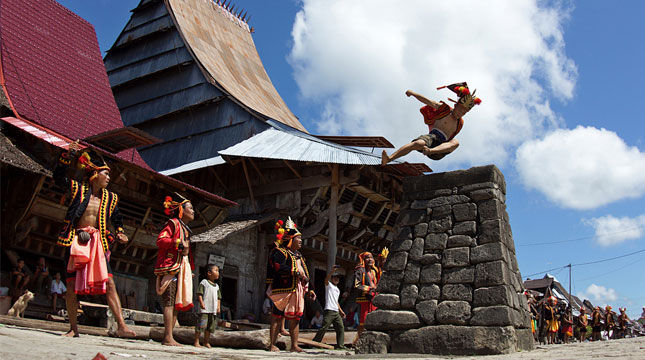 Hombo Batu or Jump Stone in Nias, North Sumatra (Photo: travelingyuk)
INDUSTRY.co.id - Nias - Located in North Sumatra, Nias has a wide variety of cultures and natural resources that tourists should be exposed to. Therefore, to attract the number of visits to Nias, then on 23 to 26 November 2017 will hold a 2017 Ya'ahowu Party.
For five days, culture and art in Nias will be presented lively and each district and city in Nias will showcase their cultural diversity and art.
Like, folk games like Rago Ue, Fafusi, Fabelugama and Fabiri. And that is not left behind is a typical stone jump Nias, Fahombo. Everything will be presented. Guaranteed people and tourists will be satisfied and fall in love with Nias.
According to Vice Mayor of Gunungsitoli as the Chairman of the Nias Ya'ahowu Islands Executive Team 2017, Sowaa Laoli said the implementation of this year is very special because for the first time the Ya'ahowu Party was held jointly by four district governments and one municipal government in the Islands Nias.
Previously the Ya'ahowu party was held by each region. "And the city of Gunungsitoli was appointed to be the host based on the decision in the Nias Islands Region Head Forum last," said Sowaa Laoli, Friday (22/09/2017), as quoted from facebook Kemenpar.
Sowaa said the event aims to introduce how the Nias culture to the people of Indonesia and the world and tourists. That the people of Nias have a very strong culture with daily life so it is worth to become a tourist attraction.
"In addition, it is hoped that this activity will become a series of future stages that the Nias Islands will be used as tourism destination by the Ministry of Tourism of the Republic of Indonesia," said Sowaa.
From Sowaa's exposure, each region has prepared contingents to perform. The organizers have also prepared the location to be the place of operation.
"We have prepared a Ya'ahowu park in the city of Gunungsitoli, which is a direct view of the sea, very beautiful," he said.
Incidentally, the trend of tourists to Nias has increased. This shows that there is a new nuance in the world of tourism in Gunungsitoli and Kepuluan Nias in general. "We hope this activity will further boost the level of tourist visits to the Nias Islands," said Sowaa.
Separately, Head of Department of Tourism and Culture of Gunungsitoli City which in this activity served as Secretary of Implementation Team, Yasokhi Tertulianus Harefa said, implementation in this year on set very interesting.
The default is already referring to global taste. "The concept of the show will be more because there are improvements, including in the arts and cultural attractions of each district and city," he said.
From this moment Yasokhi says it has coordinated with each other district to inventory the art and culture that will be displayed. This is so no cultural similarity will be displayed later.
"We have also asked for the display can be packed well, from the fashion side, choreography, everything is well laid out," said he.
The Ya'ahowu Nias Island Festival will open on November 23rd in the morning with the opening of an exhibition of superior products, souvenirs and Nias culinary specialties. Simultaneously, there will also be a Sculpture Festival followed by each district and city in Nias Islands. The theme of sculpture will be linked to the history and culture of Nias.
In the afternoon, located from Merdeka Square to Taman Ya'ahowu will be held a cultural parade which will be followed directly by head of region / deputy head of region by using Nias custom clothing. Each contingent will also feature cultural arts attractions during the parade. "Then the new official opening is done after the parade," said Yasokhi.
Art and cultural attractions will continue until the next day. While the race of people's games will be held pasa Saturday (25/09/2017) at Lapangan Merdeka Gunung Sitoli.
"There will also be a Traditional Boat Race Competition which each boat will be decorated Sobawalarasa ornamented motif Nias on Sunday," he said.
Further Gunungsitoli Night will be served on Sunday (26/9/2017) in Taman Ya'ahowu as part of the closing ceremony as well as commemorate the anniversary of Gunungsitoli City Government 9th.
"Gunungsitoli Night is a folk entertainment party, there will be one artist from Jakarta will also enliven this event," he concluded.