Spy on Pertamina's Business Plan
By : Arya Mandala And Aldo Bella Putra | Sunday, October 08 2017 - 20:00 IWST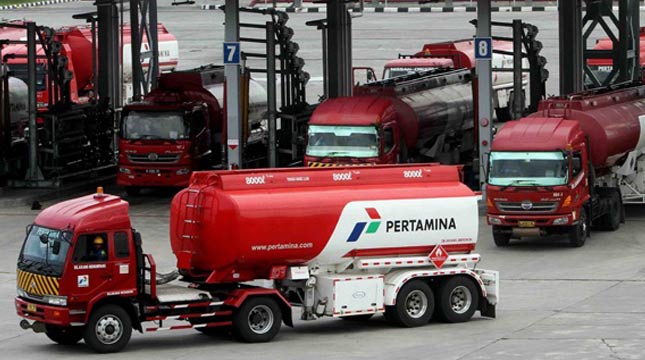 Pertamina (berdikari)
INDUSTRY.co.id - Jakarta, Pertamina is expected to cut the cost of renting fuel storage tank up to 50% after its subsidiary PT Pertamina Patra Niaga successfully acquired the fuel collection facility from Shell in Gresik.
As the only State-Owned Enterprise (BUMN) that runs integrated oil and gas business from upstream to downstream, PT Pertamina (Persero) cannot work just for profit hunting. There is an important assignment mandated to assist the government in bringing the people, namely ensuring the availability of fuel oil (BBM) to distribute it throughout the country.
Pertamina has a subsidiary which is specially formed to ensure that the task runs well, namely PT Pertamina Patra Niaga (PPN). The company, whose shares are all restricted by Pertamina, is in charge of transporting fuel from storage tanks to Fuel Filling Stations (SPBU). The role of VAT is not enough, there is also a division that handles the business of selling fuel to the industry, then bunker services to meet the needs of fuel ships both general cargo and special cargo (Tanker, LNG, Cement and Fertilizer), and Then LPG cylinder filling plants business to Engineering, Procurement and Construction (EPC) services.
In carrying out its role, VAT keeps improving in order to provide more effective and efficient service. One of them plans to have its own storage tank or fuel terminal. So far, VAT still leases the BBM terminal to third parties. The desire was immediately realized because now the VAT claimed to be in transactions to buy terminals fuel owned by PT Shell Indonesia in Gresik, East Java.
The corporate action was disclosed President Director of PT Pertamina Patra Niaga Gandhi Sriwidodo. According to Shell's fuel tank that will soon change hands into the VAT with a capacity of 35,000 kilo liters, "Maybe the capacity of tank is so great that it is not optimal, so we see that we can use it either by ourselves or leased to Pertamina," Gandhi said in Jakarta last week.
While the value of the acquisition according to him reached US $ 40 million or Rp53, 32 billion (exchange rate: Rp13.315 per USD) and is expected to complete the acquisition within one or two months. The final negotiations are being made at this time," he added.
Gandhi said his side is currently leasing a fuel tank with a capacity of 75,000 kilo liters, mostly for operations in Batam, Bangka, Samarinda and Pontianak. With the acquisition, the total tank capacity operated by the Company will increase to approximately 110,000 kilo liters. "Currently Pertamina is floating storage in Bali, but it is very expensive and if we finish the acquisition we will transfer it to Gresik, Pertamina can save 50 percent, and they (Pertamina) can lease it to us," said Gandhi.
Build 1,000 UKB gas stations
The big plan of PT Pertamina Patra Niaga (PPN) is not limited to that. There are a series of other expansions that are done in order to succeed Pertamina's role in providing fuel oil (BBM) to all levels of society.
One of the contributions that will be given is to prepare fuel service facilities to the periphery areas, which so far have difficulty in reaching conventional SPBUs that are mostly located on the main roads. "Our society is spread out, many are living on the periphery which of course have the same rights as the urban community," said President Director of PPN, Gandhi Sriwidodo.
Fuel service facilities in the suburbs include in the remote area to be built according to him in the form of SPBU UKM with sales volume of 5 kilo liters up to 10 kilo liter (KL). "We call it SPBU UKM, it is similar to Pertamini that we often encounter in the periphery," he said.
However, SME gas stations according to it will be managed with a good level of safety as conventional gas stations. However VAT will not act as the owner, but will be submitted to a third party. "We will only provide fuel supply or supply, build systems and control operations," he said.
The type of fuel that will be available according to Gandhi is not in the subsidized fuel category but medium types such as Pertalite and Dexlite.
Related value of investment according to Gandhi is not too large and only takes about 300 to 500 square meters of land. "The maximum investment value of Rp 1 billion, it is outside the land. If the land in the suburbs is cheap," he said.
For the initial phase of VAT will build about 50 SPBU SMEs until the end of 2017. While the target in the next five years VAT will build up to 1,000 units. The construction site of 50 SME stations currently has not been determined yet, but according to him are in Java and Sumetara.
In the event CEO Talk attended by all the VAT Directors also presented the performance of the Company's performance that grew in the midst of severe challenges due to falling world oil prices, import regulations, industrial market situation and mining as the main customer, to fluctuate the rupiah exchange rate whack.
The Director of Administration & Finance of VAT, Said Reza Pahlevy delivered the VAT net income in the last three years has increased significantly, ie US $ 37 million in 2014, US $ 67 million in 2015, and US $ 96 million in 2016, 259% or nearly triple.
VAT recorded EBITDA Margin 3.79% (2014), 8.23% (2015) and 8.82% (2016), and Net Profit Margin 2.09% (2014), 5.45% (2015), and 7.79% (2016).
As for operational performance, there was an increase of Trading Fuel & Non Fuel to 1.38 million Kiloliter (KL) in 2014, 1.54 million KL (2015) and 2.3 million KL (2016). Of the total market size of the industry's fuel oil trade of 18.7 million KL, the VAT controls 15%, PT Pertamina (Persero) 58%, and the rest from several competitors. "The next VAT target is to control up to 20% of the BBM trading market, including Total Energy Services for customer energy needs and developing new business potentials," Said Reza said.
In order for the expansion plan to run as planned, this year the VAT is budgeted capital expenditure of around Rp 1 trillion. "This is the first time Patra Niaga has an investment of Rp 1 trillion," said Reza In addition to the acquisition of Shell's fuel oil and the construction of 50 SPBU UKM this year, the fund will also be used to add fuel trucks and build Aircraft Filling Depot (DPPU).
There are 11 locations that are generally pioneer airports targeted to be built using capital expenditure funds this year. The other five use the capex in 2018. "Until the last 2 DPPUs are in Timika and Labuan Bajo," Gandhi said.
According to Gandhi, the construction of 16 DPPUs is to support government programs. "For example in the sea area called the sea toll, well this DPPU arguably air toll. Therefore, the VAT manages the airport to be passed by many aircraft, so it takes a lot of DPPU buildings. Furthermore, the DPPU will be built in Cilacap area, and several other locations, "he said. VAT management is optimistic that the 11 DPPUs that are dingun this year will be able to operate in 2018.