Turn of Japan Origin Industry Interested Kretek Market Homeland
By : Dhiyan W Wibowo And Aldo Bella Putra | Sunday, October 08 2017 - 21:00 IWST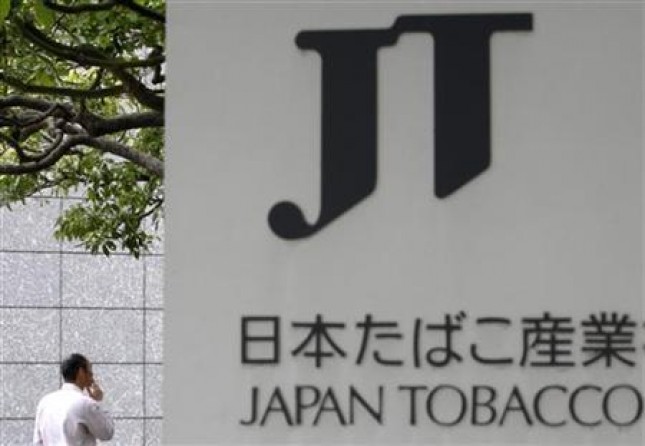 Japan Tobacco (images/Reutersmedia.net)
INDUSTRY.co.id - When health authorities in the country feel concerned about the increasing number of smokers, some foreign investors in the tobacco industry see it as an opportunity to earn a profit. After Philips Morris International Inc and British American Tobacco, now Japan Tobacco's turn to enter into Indonesia.
There is bad news related to the health of the people of Indonesia. Reported by Tobacco Atlas organization which is still under the auspices of the World Health Organization, Indonesia is listed as the country with the highest number of smokers in the world, above Russia, China, the Philippines and Vietnam. Last year Tobacco Atlas reported that the number of smokers in Indonesia reached 90 million people, a number that quite alarming.
Meanwhile, Director General of Disease Prevention and Control of the Ministry of Health M Subuh had explained that Indonesian cigarette consumption reached more than one third of the population or 36.4%.
Uncovered Subuh on the sidelines of the 3rd Indonesian Conference on Tobacco or Health in Yogyakarta last November 2016, at this time the number of beginner smokers in Indonesia was soaring high. From the results of a national health indicator survey, the prevalence of smokers under the age of 18 by 2015, increased from 7.2% to 8.8%. "Whereas we target in 2016 the prevalence of smoking age under the age of 18 years was 6.4 percent even to 5.4 percent in 2018," he said as quoted by Tempo.
The above facts would be very apprehensive if we look at it in terms of public health interests. But on the other hand, some consider the figures presented Tobacco Atlas and the Ministry of Health before, would give birth to a profit opportunity. Parties who have a view and conclusion is certainly a cigarette manufacturing.
In fact, almost two decades ago, a number of global tobacco industry players are already expanding into the market of the country, by acquiring local players. The readers would still remember the mega acquisition of PT Hanjaya Mandala Sampoerna Tbk by a giant cigarette manufacturer from the United States, Philips Morris International Inc (PMI).
In 2005, Philips Morris International Inc. (PMI) was willing to spend US $ 5.2 billion or Rp48 trillion to acquire PT HM Sampoerna Tbk (HMSP), including a net debt of around Rp 1.5 trillion, assuming all shares are purchased for Rp10.600 per share. Yet at that time the stock price of HMSP was recorded at Rp 8,850.
HM Sampoerna has so far produced a number of brands of clove cigarettes that have a large enough market share in the country, through brands Djie Sam Soe, A Mild, and Sampoerna Hijau.
Over the next four years, British American Tobacco (BAT) turns to the world's second largest cigarette producer, officially taking over 85% of controlling stake in Indonesia's 4th largest tobacco company, PT Bentoel International Investama Tbk (RMBA). BAT acquired a majority stake in PT Rajawali Corpora and other shareholders for US $ 494 million. Some strong brands generated RMBA include Star Mild, X Mild, and True.
The charm of the cigarette market in the country seems to still fascinate the players of the global cigarette industry. Although already present two giant cigarette world in Indonesia, At least for the largest cigarette manufacturer from Japan, Japan Tobacco Inc. Japan Tobacco had a 66.4% share of the Japanese cigarette market in 2009.
This year Japan Tobacco Inc. announced that the company has signed an agreement to buy 100% of PT Karyadibya Mahardhika (KDM) and PT Surya Mustika Nusantara (SMN) for US $ 677 million. Karyadibya is a subsidiary of PT Gudang Garam Indonesia Tbk (GGRM), which produces clove cigarettes with brand Apache, Absolute Mild, Absolute Mild Menthol, Extreme Mild, and Extreme Mild Menthol.
KDM operates nine clove cigarette factories in Java and sells all of its products in Indonesia through SMN. The number of workers in these two companies reached 7,500 employees.
Reported from the disclosure of Japan Tobacco information to the Japanese stock exchange authority, the transaction is targeted to be completed in the fourth quarter of 2017 financial year.
Musuo Iwai, Executive Vice President and President of Tobacco Business Japan Tobacco, said that the company's interest to enter Indonesia is because it is the second largest tobacco market in the world, with the main product of clove cigarettes.
"We are very excited to enter the Indonesian kretek market by acquiring KDM's supply network, including procurement and production, as well as the broader SMN distribution network," he said.
Iwai also said that the acquisition will be an important expansion for the company's track record in emerging markets to maintain the company's future performance growth. "This is an important first acquisition for us in Southeast Asia and a good opportunity for us to develop business in the region," he explained.
Japan Tobacco has so far sold its products to over 120 countries, with global brands such as Winston, Camel, Mevius, LD and Natural American Spirit. Last year, the company that also has a pharmaceutical and processed food business segment earned revenues of US $ 19.7 billion.
Meanwhile, KDM, which was established in 2000, has paid up capital of Rp 3.437 trillion. The majority owner of this company is PT Hari Mahardhika Usaha for 99.99 percent. Last year's net sales reached Rp 6.82 trillion.
While SMN has paid up capital of about Rp 114.5 billion and majority owned also by Hari Mahardhika Usaha, The cigarette distributor company was established in 2008. The number of employees of the company is about 6,500 people and last year's net sales were around Rp 5.80 trillion.
The total acquisition value of each 100 percent shares of KDM and SMN is worth US $ 677 million plus net debt obligation worth US $ 323 million. Thus, the total acquisition value is US $ 1 billion.