Rapimnas Hanura Party Confirms to support Jokowi in 2019 Presidential Election
By : Aldi Firhand Alqudri | Monday, July 24 2017 - 16:53 IWST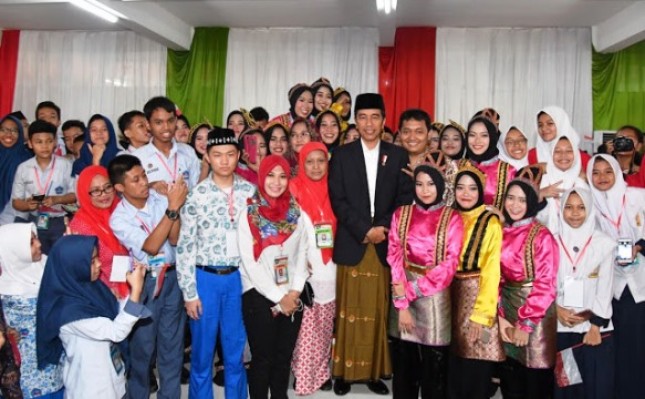 President Jokowi attend the event
INDUSTRY.co.id - Jakarta - The National Chairman of Hanura Party Meeting in August 2017 will affirm the party's support to carry Joko Widodo in the 2019 Presidential Election, said Secretary of the Steering Comitee Rapimnas Dadang Rusdiana.
"If the support to Mr. Jokowi himself has actually been submitted at the 2016 Munaslub. So in this Rapimnas we will solidify," said Dadang in Jakarta, Monday (07/24/2017)
He explained support for Joko Widodo (Jokowi) on the basis of mature consideration of one of the performance shown Jokowi in the current government.
According to him Jokowi is a leader who is more happy with real work, not just build imaging.
"He (Jokowi) is a more happy leader with real work, not imaging, that's one reason Hanura supports Mr. Jokowi in the 2019 presidential election," he said.
Secretary of the Hanura Party faction of the House of Representatives said the agenda of the 2019 presidential election to be one of the important discussions in Rapimnas Hanura will be the focus of the cadres to focus discussed and discussed.
However, according to him the choice is whether to make the right criteria for a national leadership duet ahead or to set the criteria first.
"It's still under discussion, and at Monday's meeting (24/7) it will be discussed first at the SC (Steering comitee) level," he said.
Dadang also outlined in the Rapimnas will discuss about the national consolidation of Hanura in the face of Pilkada 2018 and Pileg / Pilpres simultaneously 2019.
He said Pileg and Pilpres simultaneously are a novelty that should be completely anticipated by all Hanura structures at all levels
"So do not get because people are confused in the technical polling, then it harms us," he said.
Therefore, according to him must be ensured all the tools of the party organization is ready to conduct socialization with Pileg and Pilpres simultaneously this model.
He stressed that technical matters should be spelled out operatively in a smart and accurate tactic within Rapimnas.