Festival of Gadang House, Improve the Tourism Industry of West Sumatra
By : Chodijah Febriyani And Aldi Firhand A | Thursday, October 26 2017 - 23:19 IWST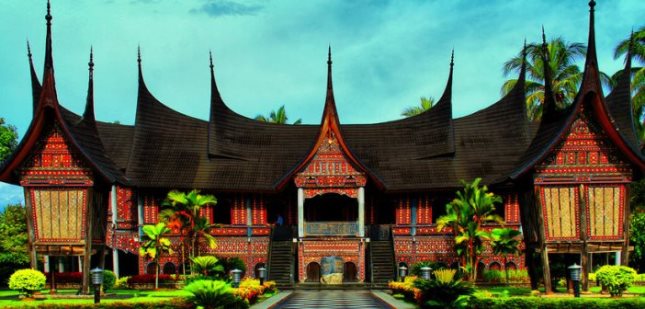 Rumah Gadang Minang Sumatera Barat (Foto Ist)
INDUSTRY.co.id - Padang Aro - The community and visitors will be involved in the Thousand Festivals Festival of Rumah Gadang in South Solok District, West Sumatera, in enlivening the international cycling event Tour de Singkarak (TdS) 2017.
Hartati, an artist / choreographer who helped implement the Thousand Festivals Festival in Padang Aro recently, explains the festival is trying to recall what was done in the past.
For this reason, the theme chosen "Manjapuik Nan Tatingga, Mangumpuan Nan Taserak, Mangambang Pusako Lamo" or pick up the missed / scattered, collecting the uncoordinated spread, showing old heirlooms.
"With the involvement of the community and visitors in the festival will make the show seemed to revive and integrate the old heirlooms into people's lives now," he said.
He explained that adat tradition is thick in everyday life past, the most fundamental is cooperating in realizing a customary event.
"All customs / traditions happen on community participation, not instruction from above," he said.
"The principle of 'duduak samo randah, tagak samo high, and leader elevated sarantiang', it became a reference for this festival," he said.
In order for the festival to be "alive", Hartati said that the people and the tourists who are in and out of the Seribu Rumah Gadang area must wear the clothes for women.
As for the men use "Taluak Balango", "Deta" and other daily accessories.
"It is not traditional clothes, baralek clothes or datuk clothes and the like," he said as quoted by Antara.
Society, call not as a spectator, but directly participate as the culprit and acted daily life in the Area Thousand Gadang House.
"Even tourists who come, attend or stay in a Thousand Gadang House, we are seriously appealed to dress the same as the people there," he said.
The school was also asked to participate to send the students to the Thousand Rumah Gadang on the second day of the festival. To provide opportunities and awareness that their villages will become tourist areas and close to their culture.