Below is the Explanation of PT TPS Related to Alleged Counterfeiting of Rice Quality
By : Aldo Bella Putra | Monday, July 24 2017 - 07:10 IWST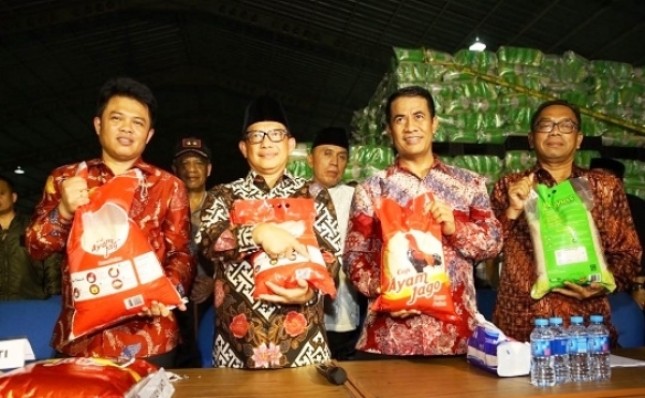 5166
INDUSTRY.co.id - Jakarta - President Commissioner of PT Tiga Pilar Sejahterah (TPS) Anton Apriyantono denied allegations if his party falsified the quality of rice from medium to premium rice.
Anton explained that the IR 64 rice that police refer to as raw materials used as rice production is also mistaken. In the field continued rice IR 64 varieties are not widely found because it changed with new varieties namely Inpari and Ciherang.
"Besides, there is no such thing as a subsidized IR 64 rice, it's a tremendous public lie, which is rice raskin, subsidized not on rice but on purchase, raskin rice is not sold freely, only for underprivileged consumers," he explained Press release received in Jakarta, Sunday (7/23/2017).
In addition to allegations that the company has harmed the country hundreds of trillions, Anton also denied it. According to him, turnover owned by PT TPS is only four trillion rupiah per year.
As reported earlier, the Food Satgas raided a rice warehouse in Bekasi that allegedly had lied to consumers with long tails. PT Indo Beras Unggul (PT IBU), which allegedly forged the quality of medium rice to be premium free made him have to deal with the police.
As previously reported PT Indo Beras Unggul (PT IBU) clarified the case of his rice storage warehouse in Bekasi. Jo Tjong Seng, PT IBU Spokesman said that PT IBU does not buy or use subsidized rice.
"PT IBU buys the common grain produced by farmers and local mills around the factory," Jo told media on Saturday afternoon (22/7/2017).
The subsidiary of PT Tiga Pilar Sejahtera Tbk (AISA) produces "Maknyuss" and "Cap Ayam Jago" branded rice, claiming that the rice is in accordance with Indonesian National Standard (SNI).
SNI sets the definition of premium quality of rice through physical and visual rather than varieties. "IR64 rice can be medium and premium rice," explained Jo.
PT IBU shows it has been through independent laboratory results to assess the content in rice. Jo said there was a mistake in understanding the numbers listed on the packaging.
On rice packaging Maknyuss and Cap Ayam Jago show nutrient content and nutritional adequacy (AKG).
The nutrient content listed refers to the components contained in every 100 grams of rice, while the AKG is a reference made by the Food and Drug Administration (BPOM) for daily needs.
On the packaging contained carbohydrate content of 74 grams. The content can meet 25% of nutritional needs. It is considered Jo still in accordance with SNI standards.