Vegetable Fat Alcohol Production 'van' Dumai, Big wish for Sinar Mas Cepsa
By : Dhiyan W Wibowo And Aldo Bella Putra | Sunday, November 05 2017 - 22:00 IWST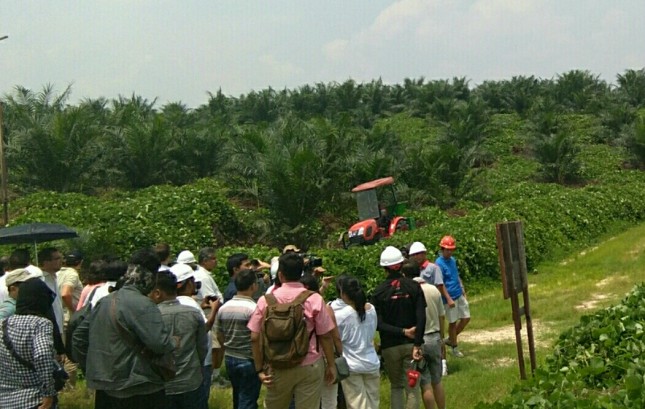 Kawasan Sinar Mas Cepsa Dumai
INDUSTRY.co.id - Dumai An oleochemical plant in Dumai started fatty alcohol production at its factory with an annual production capacity of 160,000 metric tons per year.
Sinar Mas Agribusiness and Food and Cepsa as owners have spent Rp4, 77 trillion for the construction of the factory.
There was a big event in Nerbit Kecil Hamlet, Lubuk Gaung Village, Dumai, Riau Province in mid September. Minister of Industry Airlangga Hartarto was pleased to present present in the hamlet located in the coastal city of Dumai, accompanied by Riau Province Governor Arsyadjuliandi Rachman and Mayor Dumai Zulkifli AS.
It is Sinar Mas Cepsa, a joint venture between Sinar Mas Agribusiness and Food and Cepsa, an integrated energy company based in Madrid, Spain as the lender of the day. Sinar Mas Cepsa that day, September 14, 2017 inaugurated its first oleochemical plant in Indonesia, with investment worth 300 million Euros, equivalent to Rp 4.77 trillion.
Just a little bit of information, Sinar Mas Agribusiness and Food is the world's second largest vertically integrated palm oil company. While Cepsa is an integrated energy company known as the world leader in the production of linear alkylbenzene (LAB) used to make biodegradable organic based detergents.
Of course, the opportunity also to attend in the meeting, CEO of Sinar Mas Agribusiness and Food, Franky O Widjaja and Cepsa CEO Pedro Miro.
The Sinar Mas Cepsa plant in Dumai has an annual production capacity of 160,000 metric tons of fatty alcohol per year. The two-year-old plant will produce fatty alcohols from sustainable palm kernel oil as the main ingredient for daily-use products such as household cleaning and personal care products.
So far, vegetable based fatty alcohol is increasingly in demand by global markets as raw materials for personal care products and liquid detergents.
Presented by Franky O Widjaja, this factory directly provides employment for 300 Indonesian workers. It will also support the growth of the chemical industry in Indonesia through the transfer of knowledge as well as the adoption of leading technologies in producing fatty alcohols from sustainable vegetable raw materials.
The Dumai plant has fully operated independently. The factory is capable of generating its own electricity, processing waste and managing its own logistics. In addition, Dumai Plant has a strategic location, adjacent to Lubuk Gaung's Lubuk Gaung Oil Plant belonging to Sinar Mas Agribusiness and Food supplying palm kernel oil to the plant.
Lubuk Gaung Lubuk Oil Plant has been certified by RSPO and can be traced back to its raw material. In the future, the production from Sinar Mas Cepsa Factory in Dumai will target markets in Asia.
"The joint venture was created with a vision to become a vegetable based fatty alcohol manufacturer and its leading global derivatives and with sustainable feedstock supply," Franky said.
He also mentioned that Sinar Mas Cepsa's vertical integration and factory launch in Dumai is an important step that the company is making to achieve its vision as a global vegetable-based fatty alcohol manufacturer.
Through this joint venture we can increase added value for palm oil derivative products and continue to create employment in Indonesia," he added.
Cepsa's Vice Chairman and CEO Pedro Mir said Cepsa's chemical division is a key element in the company's growth strategy, as it has a broad and diverse portfolio especially for the chemical industry.
The business units in which we operate are at the forefront. Adding a vegetable-based fatty chain value is the latest step in our internationalization plan. And it is very important for us to partner with experts in their respected and reputable fields, says Miro.
Recognized CEO of Sinar Mas Cepsa, Kung Chee Whan, Cepsa is eager to expand its petrochemical portfolio with plant-based products in its business. Therefore, he considers Cepsa's partnership step with Sinar Mas Agribusiness and Food, as one of the largest palm oil producers in the world is the right choice.
A form of partnership that combines the strengths of both sides is visible from our factory in Dumai. The plant utilizes Cepsa's technology and expertise on oleochemistry and relies on sustainable raw materials from Sinar Mas Agribusiness and Food, says Kung Chee Whan.
Indeed for Cepsa this project is new for the company. This partnership is the first step for Cepsa in producing non-oil, but plant-based chemicals in new locations and also entering new markets.
As an energy business group, wholly owned by International Petroleum Investment Company (IPIC), Cepsa operates at every stage of the hydrocarbon value chain, from oil and gas exploration and production, refining, distribution and marketing of crude oil and natural gas derivatives, to producing biofuels and into the sales business of electricity and cogeneration.
Cepsa has developed a vital chemicals division that is closely integrated with the refining business that will manufacture and market raw materials for high value-added products.
Meanwhile, at the upstream level, Sinar Mas Agribusiness and Food operating under Golden Agri-Resources Ltd (GAR) continues to improve the quality of oleo chemical raw material supply through the production of crude palm oil and kernel oil from a number of factories and plantations, especially in Riau province.
Steps to improve the quality of production is one of them is done by replanting or planting palm plantations that have entered the mature age. It is the oil palm plantation Sinar Mas Lima who oversees all plantations in Riau Province, is aggressively doing replanting to increase production.
Disclosed CEO of Plantation Sinar Mas Lima, Franciscus Costan when encountered by media in the company's plantation area in Libo Riau Province, for the year 2017 there are about 3,500 hectares (ha) of rejuvenated palm oil.
This replanting program is a continuation of the previous replanting program that has been started since 2012. Previously, Sinar Mas Lima has held replanting on an area of ​​15,000 ha.
In Riau province, Franciscus Costan is responsible for 84.755 ha of oil palm plantations, spread over Siak, Kampar, Indragiri Hulu and Indragiri Hilir. Of the total land area, 50,054 ha are the core plantations and 32,972 ha are plasma plantations and the remaining 477 ha are self-supporting plantations.
"We are targeting all of these replanting programs, including those of plasma farmers and self-help to be completed by 2027," he said.
The company said it has prepared a budget of Rp 50 million to Rp 60 million per hectare, or around Rp 175 billion for a palm oil plantation replanting program of 3,500 ha this year. The budget is partly derived from bank loans and the remainder of the company's cash.
The budget includes for seed purchases, planting and fertilizing costs up to three to four years. So far, Sinar Mas palm trees in this area have been able to bear fruit at the age of three and a half years.
The replanting measures will certainly increase the production of fresh fruit bunches to 27 tonnes to 28 tonnes of FFB per hectare each year, with a 25% yield or 7 tonnes of crude palm oil per ha.
While the plants that enter the current mature period still has an average yield of 20% -21% CPO per hectare. To ensure its products are accepted by the market, Franciscus says it has also pocketed ISPO and RSPO certificates. While for the plasma plantations sebegian large also pocketed the RSPO certificate and some ISPO