Declaration of Increasing Cane Plant Productivity, Fertilizer Supply Issues Completed
By : Hariyanto And Aldo Bella Putra | Thursday, November 16 2017 - 22:00 IWST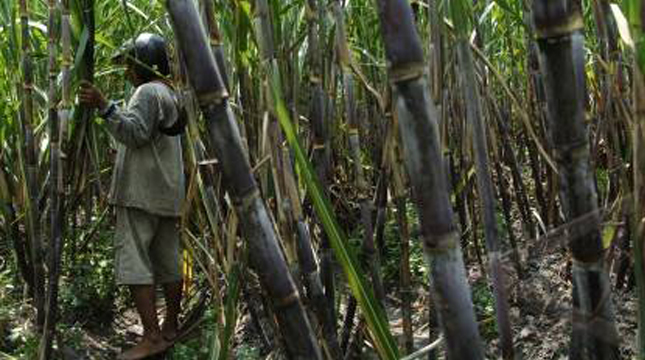 Ilustrasi Petani Tebu (atr)
INDUSTRY.co.id - Jember - State Enterprises Minister Rini Mariani Soemarno hopes that sugar cane cultivation in East Java can produce 100 tons per hectare. He also wants the rendemen to be above 8%. For the availability of fertilizer need not worry.
"This year the rendemen is a little low, because rainfall is very high and there are problems of fertilizer that is not timely, I hope at planting the end of 2017 this all can be on time," said Rini told reporters, on the sidelines of the 'Declaration of Plant Productivity Increase Sugar Cane: Synergy of SOEs to Achieve Self-Sufficiency of Sugar Competitiveness', at sugar field PT Perkebunan Nusantara XII, Wirowongso Village, Ajung District, Jember Regency, East Java, Wednesday (15/11/2017).
This year, the number of sugar cane fields in Indonesia reached 475 thousand hectares with 2.3 million tons of sugar production. The average sugarcane produced is still below 100 tons per hectare with a yield of 7.5%.
Rini admitted non-subsidized fertilizer is not easily obtained by sugar cane farmers, because they have to buy directly to the manufacturer's factory. "This is what I think is not right, Alhamdulillah, the problem can be solved: appointed new distributors for non-subsidized fertilizer," she said.
Currently most farmers already cultivate sugar cane on two hectares. "So it should not use subsidized fertilizer, but the usual fertilizer, the important thing (fertilizer) is already available," said Rini.
With the signing of today's memorandum of understanding between a number of stakeholders, especially SOEs, starting from plantation companies, sugar mills, banks, PT Petrokimia, and farmers, it is expected that the supply of fertilizers can be timely.
Not just fertilizer. Rini said, there is land that has been utilizing the seeds of P3GI (Research Center of Indonesian Sugar Plantation). "So this is what we continue to try and use, not only in Java, but also in Sumatra as in Lampung and South Sumatra," she said.
Meanwhile, President Director of PT Petrokimia Gresik Nugroho Kristianto said, the need for sugar cane farmer fertilizer will be communicated with the sugar factory. "PTPN sugar factory (PT Perkebunan Nusantara) will guarantee as avalis from which we will distribute as needed," she said.