Tony Q Will Enliven The Orphan Charity Reggae Star Festival 2017 in Malang
By : Amazon Dalimunthe And Aldi Firhand A | Wednesday, November 22 2017 - 11:34 IWST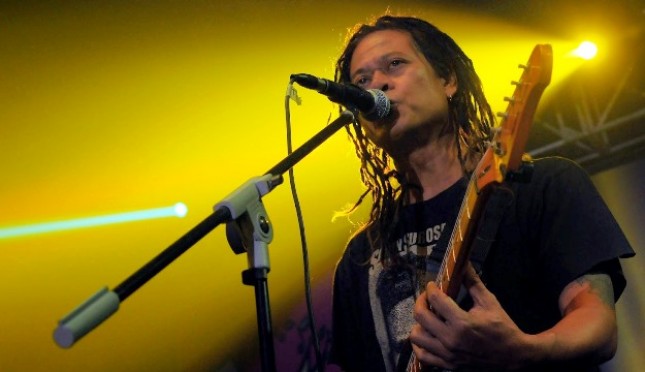 Tony Q, Reggae Leader Indonesia will Liven up Jaya Reggae Star Festival
INDUSTRY.co.id - Reggae music in Indonesia, it would not be complete if not mention the name of Toni Q with his group Rastafara. Because this musician is very consistent build and continue to work through this music from Jamaica. So it's no wonder Toni Q becomes the main magnet of every reggae music show. Including that will be held in Malang on 16 December coming under the label "Charity Concert Jatim Reggae Festival 2017".
In addition to Toni Q and Rastafara, a number of other Reggae groups such as Republican Cozy, Steven Jam, Denny Frust, and many more. "We ourselves were overwhelmed to choose a group-reggae group that will appear in the event Reggae Jatim Star Festival. It's nothing because the number of reggae groups in East Java generally and unfortunate in particular turned out very much and good -good and have their own fans who number tens of thousands, "said Agung as the initiator of the event.
Meanwhile Ferry from Proud Indonesia who acted as the promoter said that Jatim Reggae Star Festival is the largest reggae mania meeting in East Java. "We will make Malang as reggae city to see the many groups and enthusiastic reggae audience. And certainly this is not just a meeting or concert, but must contribute to the city of Malang. So we call this also as a charity concert. Charity Concert, "said Ferry who is also a drummer in some of these music groups.
Toni Q himself admitted that he is very proud that reggae muik in Indonesia still survive and even growing. "Even the concept of reggae music has also been exposed by other music such as dangdut koplo this latest bloom," said Toni Q.
Indeed lately dangdut koplo music incorporated elements of reggae music in his concoction. Singers like Via Vallen became successful thanks to a koplo music concoction that included reggae, rap and pop usernames. "If it says the most durable music in Indonesia dangdut and reggae. Especially if they affect each other. The stronger is its braid, "added Toni Q.
Jatim Reggae Star Festival is a development of Bali Reggae Star Festival which has been going on 3 times in Bali. "Starting from the challenge of creating a special reggae music festival in Bali. For all this Reggae music only attached to music concerts or festivals in Bali. At first I thought it was impossible to make reggae festival, was so voiced by many devotees. Even from abroad all enliven. Be in 2015 we Held for the first time and continue in 2016 and 2017, "said Agung who is the original son of Bali.
To be able to watch Jatim Reggae Star Festival, the audience will be asked to contribute (Charity) to Malang. "We do not ask for money, but also to maintain the cleanliness and order and security alone is a contribution or good charity and can be felt directly Malang society. We can prove that Malang can be a reggae city that should be imitated by other cities, "said the ferry closing chat.