Trust in BAZNAS Continues to Rise
By : Nina Karlita And Aldo Bella Putra | Wednesday, December 06 2017 - 14:00 IWST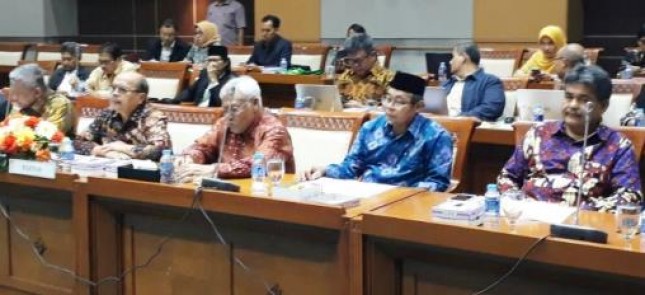 Ketua BAZNAS, Prof Dr Bambang Sudibyo MBA, CA dalam Rapat Dengar Pendapat dengan Komisi VIII DPR (Foto Nina)
INDUSTRY.co.id - Jakarta- Community confidence in the management of zakat, infak, alms (ZIS) and other religious social funds (DSKL) implemented by BAZNAS increased from year to year.
This is evidenced by the increasing collection of BAZNAS at the central level in the first half of 2017 by 54 percent compared to the collection of ZIS and DSKL in semester l / 2016.
Recorded semester l / 2017 is Rp85,04 billion, while in semester l / 2016 equal to Rp55,261 billion.
This was conveyed by the Chairman of BAZNAS, Prof. Dr. Bambang Sudibyo MBA, CA in Hearing Meeting with Commission VIII DPR, in Jakarta (4 / l2 / 2017).
"BAZNAS has made various innovations in serving muzaki and mustahik, and from such a collection has been channeled through various programs of empowerment and compensation with good absorption."
The fund disbursed is around 60% or Rp49.49 billion in semester l / 2017.
Distribution is most accepted by poor asaf fakir as much as 52%. While the largest program absorbed by the health program as much as 33%.
This health program includes providing free services in six healthy homes in Jakarta, Yogyakarta, Sidoarjo, Makassar, Pangkalpinang and Parigi Moutong.
In addition to BAZNAS at the central level, this increase in public trust also occurred in BAZNAS at provincial and district / city levels. The aggregation of ZIS and DSKL rises compared to last year's earnings so that the benefits are felt to be greater for programs to mustahik.
As the coordinator of the national zakat management, BAZNAS among others has given consideration to the establishment of regional BAZNAS leaders, recommends the establishment of Amil Zakat Institute (LAZ), complements the rules of law, carries out counseling and coordination and collects reports.
In addition, BAZNAS also acts as a zakat operator by conducting zakat socialization through media, improving financial system and developing information management system based on information technology.
BAZNAS has also reorganized and completed the tasks and functions of amil, monitoring and evaluation, development of ISO 9001: 2015 quality management system, external audit by public accountant, reporting on duty implementation, and performing the role of collecting and distributing zakat.
Bambang said that in 2018 BAZNAS designs as a strengthening year for national zakat managing organizations with priority agenda such as increasing the growth of ZIS and DSKL nationally by 35% from 20l7.
Also targeted, the financial statements of the provincial BAZNAS and LAZ have been audited by public accountants by mid-year.
"The zalcat collection target for BAZNAS at the central level in 2018 amounts to Rp200 billion while the national zakat collection target of BAZNAS at the central, provincial and district / city BAZNAS and LAZ levels is Rp7.8 trillion," he said.