President Jokowi Asks ICMI to Contribute Helpful Thoughts
By : Herry Barus And Aldo Bella Putra | Friday, December 08 2017 - 18:00 IWST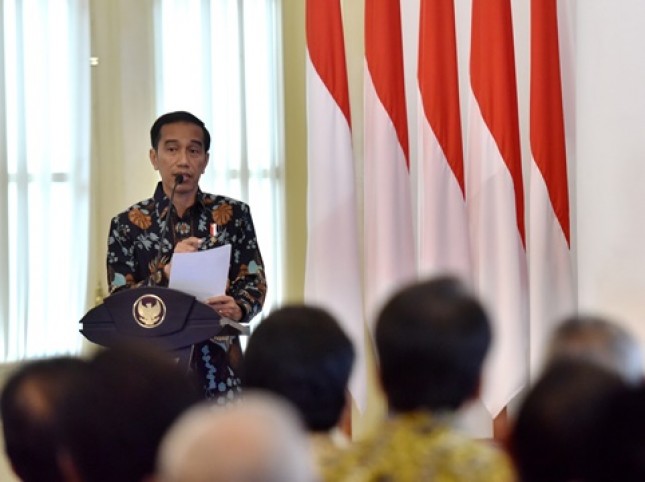 Presiden Jokowi (Foto Setkab)
INDUSTRY.co.id - Bogor - President Joko Widodo opens the National Working Hours of Indonesian Muslim Intellectuals Association (ICMI) by discussing the importance of maintaining the unity of Indonesian society and the role of Indonesia in the international arena.
"This is what I always repeated, everywhere, to make us realize that we are a big country, not a small country," President Jokowi said in his opening remarks at the Garuda Room of the Presidential Palace of Bogor, West Java on Friday (8/12 / 2017).
According to President Jokowi, several times when meeting with other heads of state he conveyed how diverse the tribe, religion and language in Indonesia, among others, to the President of Afghanistan Ashraf Gani.
President Jokowi explained that Asraf was fascinated by the vastness and variety of nations in Indonesia and advised Jokowi to be careful about maintaining unity.
In fact, Asraf said he wanted to learn from Indonesia how to keep ukhuwah Islamiyah, ukhuwah Wathoniyah, and ukhuwah Insaniyah Muslim community.
In addition, the President asked ICMI members to detail the concept of Pancasila market economy previously described by ICMI Honorary Board Chairman BJ Habibie.
"He will convey to me if you have found the formulation of the formulation and the details of what so that I am the executor part only, to implement the existing plans," said President related ideas from Habibie.
Then Jokowi also convey about the level of gap in infrastructure development in Indonesia is still so lame that the government is determined to build roads, ports, airports to connect remote places.
The President described one example of infrastructure development such as the Trans Papua road that was built aimed at improving welfare equality.
In addition, the determination to realize one price of BBM and the decline in the price of staple goods such as cement is also done by the government.
Head of State said with the construction of Trans Papua road, at least can lower the level of logistics prices that also reduce the price of goods needs.
"The most important thing I think that social justice for all people of Indonesia is really we can implement with the developments we are now doing," said the President.
In its closing, the President asked ICMI leaders to continue to contribute ideas that benefit the nation and the country in the midst of global competition.