Metro Realty's Revenue is Targeted at Rp 25.31 Billion in 2017
By : Abraham Sihombing And Aldo Bella Putra | Friday, December 08 2017 - 22:00 IWST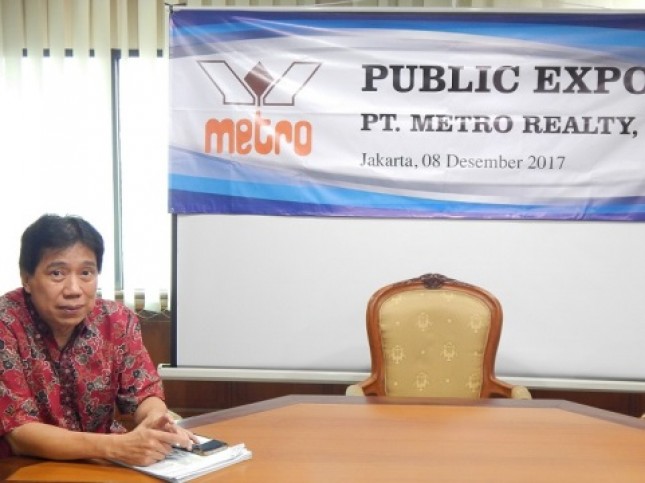 Sukardi, Direktur Independen PT Metro Realty Tbk (MTSM) dalam Paparan Publik 2017 (Foto Abe)
INDUSTRY.co.id - Jakarta - Sales and operating revenue of PT Metro Realty Tbk (MTSM) is targeted at Rp25.31 billion in 2017. That is around 2% higher than the actual sales and revenue of the company in 2016 of Rp24.81 billion.
"Throughout January-September 2017, our sales and operating revenues have been worth Rp17, 59 billion. That means we have reached about 69.5% of our full year sales and revenue target in 2017, "said Sukardi, Independent Director of MTSM, in a public exposure event in Jakarta on Friday (08/12/2017).
Sukardi explained the increase in sales and business income is relatively very low due to the company since January to June 2017 and did not get sales or operating revenues.
This is because the total activities of the company's management during the period are renovation of the company's buildings located in Pasar Baru-Central Jakarta, in Sunter-North Jakarta and in Melawai-South Jakarta.
"In addition to building renovations, management also grace period of about 6 months to the tenants of the building because the interior of the outlets designed by the tenants of the building," said Sukardi.
Despite the very low increase in sales and operating income, Sukardi hopes that the loss of MTSM will continue to decrease along with various efforts by management to maintain their business activities in the property sector.
In addition, Sukardi also revealed, the amount of capital expenditure (capital expenditure / capex) realized by the company in this year ranges from Rp8-10 billion
"We will also provide capex funds for 2018 between Rp10-15 billion. Capex from the company's internal cash will be used, primarily to finance the renovation of the building owned by the company located in Melawai and done in stages," said Sukardi.
Sukardi revealed the company's capex fund every year has increased. That is due to the increase in various prices of goods, regional minimum wage increases (UMR) and so on. However, the management of MTSM can still make adjustments to the increase in the capex. (Abraham Sihombing)