Distributed CSR, Bank DKI Provide Hydroponic Garden Facilities in Jatinegara Kaum Flat
By : Candra Mata And Aldo Bella Putra | Tuesday, December 12 2017 - 22:00 IWST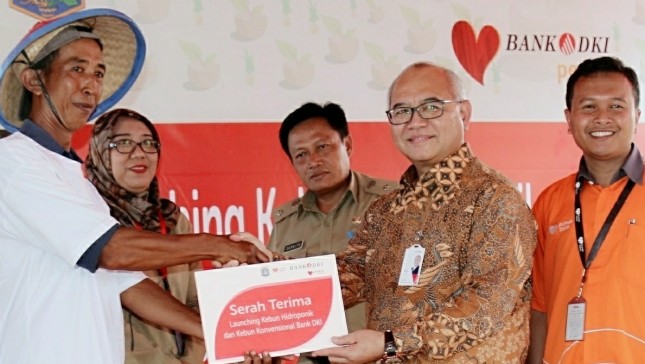 Direktur Kepatuhan Bank DKI, Budi Mulyo Utomo, bersama Direktur Rumah Zakat, Asep Nurdin (paling kanan), memberikan simbolis bantuan penyediaan fasilitas kebun Hidroponik kepada warga di Rusunawa Jatinegara Kaum di Jakarta, (12/12).
INDUSTRY.co.id - Jakarta - As a form of environmental awareness, Bank DKI delivers CSR in the form of Hydroponic facility in Jatinegara Kaum Flat, East Jakarta.
The inauguration of Hydroponics gardens was attended by Director of Compliance of Bank DKI, Budi Mulyo Utomo, Head of Housing Service, Agustino Darmawan and Director of Rumah Zakat (RZ), Asep Nurdin in Jakarta, (12/12).
Hydroponics itself is the cultivation of planting by using water without using soil with emphasis on the fulfillment of nutritional needs for plants.
Director of Compliance of Bank DKI, Budi Mulyo Utomo explained that the distribution of Bank DKI CSR in the form of Hydroponics facility is aimed to improve the creation of green environment in DKI Jakarta.
According to Budi Mulyo, the provision of Hydroponics facilities not only can create positive activities, but also can provide financial benefits for residents Ratawa Jatinegara Kaum.
By planting through hydroponic garden that we provide, the quality of vegetables in the harvest to be better so that the selling price can be higher, "said Budi Mulyo.
He also mentioned, in addition to using Hydroponic planting techniques, residents of Jatinegara Kaum Flats can take advantage of existing land.
Bank DKI has also been supporting equipment for conventional planting needs such as fertilizers, seeds, and pots, "he said.
In addition, Budi Mulyo also explained about the development of DKI Bank Office Network in Rusun-rusun owned by DKI Jakarta government.
This is done in order to continuously improve the quality of service to customers, especially residents of DKI Jakarta resident's towers.
"Bank DKI will continue to expand its network of service offices in Jakarta's Rusun-Rusun until December 2017, Bank DKI already has 8 service offices in DKI Jakarta's flats and in the future will continue to be added clearly.
According to him, in addition to service offices, Bank DKI will also continue to add ATM machines in Rusun-Rusun in DKI Jakarta as well as carrying out ball activities by providing mobile branch facilities that routinely visit the Rusun-Rusun owned by the Provincial Government of DKI Jakarta.