Welcoming the Golden Period of Sharia Banking Industry
By : Redaksi And Aldo Bella Putra | Saturday, December 16 2017 - 17:00 IWST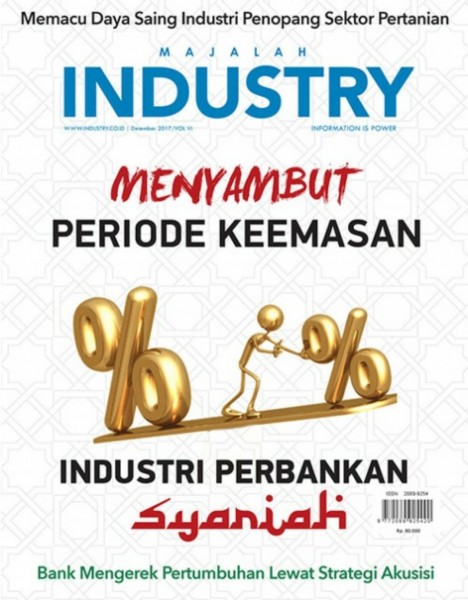 Majalah INDUSTRY edisi Desember 2017
INDUSTRY.co.id - Asa Syariah Banking - Since the era of sharia financial industry was introduced in the country in 1991 through the establishment of Bank Muamalat Indonesia, many people hope that the needs of the Muslim community in economic activities will be fulfilled.
On the other hand, the sharia financial services industry will also grow rapidly. Understandably, Indonesia is a country with the largest Muslim population. No exaggeration if it appears that the projection of the Islamic financial services industry will dominate the financial industry in the country.
But what power, the projection is limited to mere expectations. Since its introduction in 1991, the market share of sharia financial industry has been slow. To be able to achieve a 5% portion compared to conventional financial industry assets alone, it took more than two decades.
The asset composition of 5% in sharia banking was only reached in 2017, helped by the conversion of BPD Aceh which became Bank Aceh Syariah.
But it may be more accumulated this time. A number of growth supporting factors seem to be more comprehensively available.
From instruments to under lying investment, funding institutions and sharia guarantors, to financial technology institutions will also be a stepping stone that can hoist the amount of share of sharia in the country.
Another thing that is considered to foster optimism is the establishment of the National Committee for Islamic Finance by President Joko Widodo.
Through this institution will be blended and 'cooked' all forms of ideas that can develop the application of sharia economy. Next certainly the Muslim community, who want the application of sharia economic system in his life, will be fulfilled.
Then how the big factors that can encourage the growing market and services of the Islamic financial industry, especially Islamic banking. BACA is more in the special edition of INDUSTRY Magazine December 2017 edition "Welcoming the Golden Age of Islamic Banking Industry".
Get also other industry sector issues. For Purchases, Subscriptions and information, please contact us; Office: Batavia Tower Lt.2 Jl. KH. Mas Mansyur Kav. 126, Jakarta, Indonesia Tel: (021) 579 02855, Fax: (021) 572 7338 Email: [email protected] Website: http://www.industry.co.id/