Commemorating First Anniversary, Green Pramuka Square Shares With Children Cancer Survivors
By : Ridwan And Aldi Firhand. A | Friday, December 22 2017 - 14:19 IWST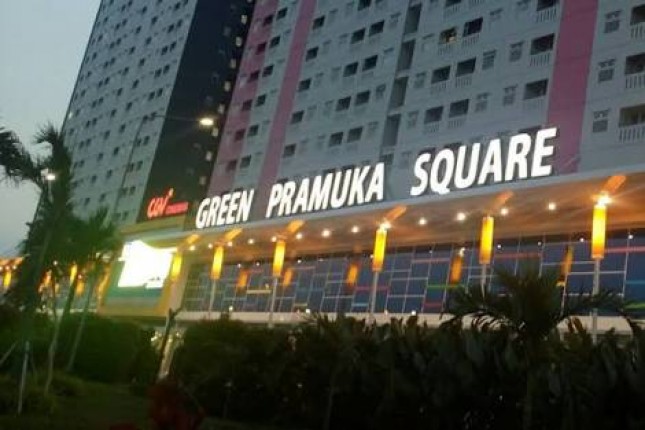 Green Pramuka Square (Ist)
INDUSTRY.co.id - Jakarta - In commemorating its first anniversary, Green Pramuka Square held a thanksgiving event by inviting children survivors of cancer located at the shelter home of Yayasan Kasih Anak Kanker Indonesia (YKAKI).
Cancer is a scourge that is so worrying for many people. Not only the age of adults, but the children did not escape from this disease.
Referring to WHO data at the end of 2015 the number of cancer patients in the world today as many as 14.1 million people, of whom four percent are children of childhood cancer.
The data collected by the Ministry of Health, in 2007 there were about 4,100 cases of cancer in children with age range 14 years in Indonesia.
Liza Monalisa, General Manager of Green Pramuka Square, said that as a business entity, Green Pramuka Square not only focuses on business management and development, but also on social values ​​as a manifestation of our awareness and commitment to create a better life for others.
"Therefore, we want to make this first anniversary of the Green Pramuka Square that feels more meaningful by doing something meaningful for the children who survived cancer in YKAKI," said Liza in Jakarta (21/12/2017).
In the ceremony, symbolically Green Pramuka Square gave donation to YKAKI. Donations that should be used to meet the needs of children cancer in the shelter home is the result of fundraising from the activities of Stupa Art Competition held Green Pramuka Square.
"The winners of this competition will be selected based on the vote (choice) of most visitors who Gathered since the date of 3-20 December 2017. Each vote given by visitors will be converted in the form of Rp 10,000 rupiah," she explained.
In addition to donating, he continued, Green Pramuka Square also share the fun by inviting children survivors of cancer to play together in the game area within the mall environment.
Ira Soelistyo as Chairman of YKAKI appreciated the concern shown by Green Pramuka Square against children surviving cancer.
"Community awareness as well as various parties is crucial in the handling of cancer in children," she said.
According to him, the understanding of cancer in children needs to be socialized at all times so that when found the symptoms can be directed at the hospital that handle treatment.
"Thus treatment delays can be avoided and more children can be helped," lid Ira.