2018 Wish, Buying House with Minimum Salary
By : Ahmad Fadli And Aldi Firhand. A | Monday, December 25 2017 - 19:47 IWST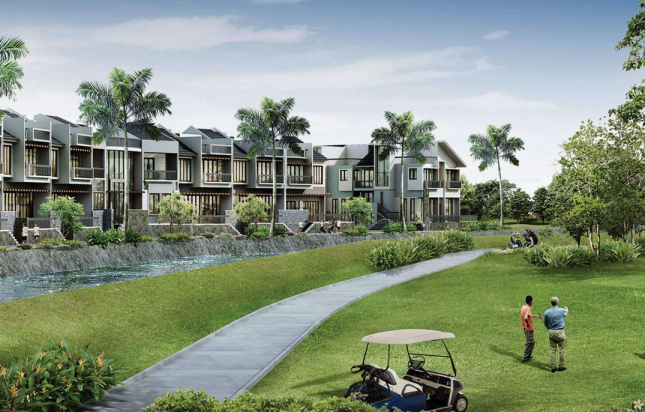 illustration of property project (dok INDUSTRY.co.id)
INDUSTRY.co.id - Jakarta - What is your 2018 resolution? Buying a house? Why not !, many people who currently think of buying a house is a difficult thing, because housing prices are now very expensive inversely proportional to the income earned. But it is not impossible if you want to buy a house with a small salary.
Especially for those who earn a Regional Minimum Wage (UMR) Rp 3.6 million (Jakarta), with such income will be very difficult to have a home as a resolution in 2018. But not to worry, high house prices can not be used as an excuse to make You are shrinking from buying a house, if it is the intention, there are actually many ways that can be done to get it.
Well, for those of you who are currently earning UMR and have a resolution of 2018 to buy a house, here are some simple tips to make it happen.
Must Save With Small Payment
Save the base of the rich, of course you often hear the phrase is not it? Despite a small salary, to buy a home, the first thing to do is to save money. As much as possible you should really pay attention to the affairs of expenditure in terms of shopping, use your money to shop for primary purposes, do not overdo what else using a credit card limit it. Implant in yourself, home is the main need, not a new gadget, or a new vehicle. So buying a house with a small salary is not impossible.
Saving Though Small Salary
Just save money is not enough, you are also required to save consistently, set aside your salary money at least 20 percent each month, make a special account on the bank and do not mix with accounts for daily expenditure.
So what if the income earned was just enough for everyday purposes, if you have this story of course you have to start to think looking for additional income, start to create a side business to increase your rupiah coffers. Choose a side business that does not spend a lot of capital like property agents or online business.
Do not Lease
Do not ever cross your mind to Lease, because it will actually make wasteful. For example, if you happen to Lease at a cost of Rp 1 million per month, then within a year the funds to be spent amounted to Rp 12 million, the figure can actually be used as a down payment to buy a subsidy home.
So, you should not choose if you choose to contract, but if it is forced to do you should find a partner who can be invited to joint venture to pay rented.
Choose a mortgage
After successfully collecting down payment money from savings and saving, your next step is to apply for Housing Loan (KPR), this step is the most appropriate solution to buy a home for those of you who do not have enough money to pay by cash or cash gradually.
If you want to take home with a mortgage scheme should look for banks that offer the lowest interest because it will certainly make it easier to pay interest installments.
So how the story, if our income was not enough to apply for KPR. No need to worry. because you can apply for KPR subsidies, this type of credit is specifically intended for those Low Income Communities (MBR).
Type of subsidized KPR has many advantages, such as relatively cheaper home prices, 5 percent flat interest, and term of borrowing up to 20 years old.
The requirement to apply for this type of loan is the applicant's maximum salary of Rp 4 million to buy a house and a maximum salary of Rp 7 million to buy an apartment. In addition, this type of mortgage is only reserved for applicants who have never owned a home.
Join Auction House
In addition to subsidized KPR, there is actually another way to get a house with a sloping price, ie by following the auction house. By following the auction house purchase scheme you can get a house with a cheap price. Because the house included in the auction is a confiscated house that failed to be repaid by the bank mortgage debtor.
But if you want to follow the auction house, should first check the condition of the house, along with access to get there, make sure the condition of the house in good condition and free of flood. Hopefully these tips can help realize your 2018 resolution to quickly own your own home.