Half-Day Rest, IHSG Closed at 52020 Positions
By : Aldo Bella Putra | Wednesday, July 26 2017 - 08:06 IWST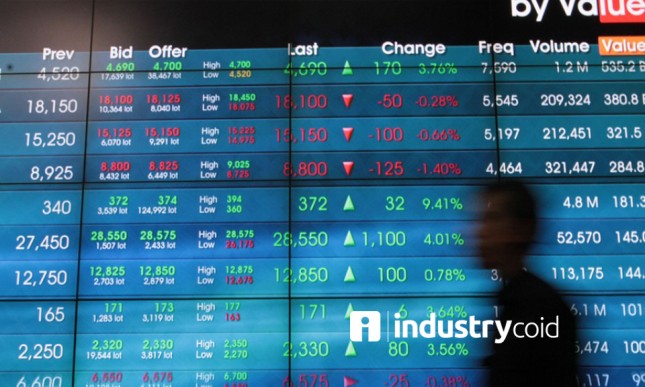 5166
INDUSTRY.co.id - Jakarta - The Jakarta Composite Stock Price Index (BEI) at mid-day break Wednesday (26/07/2017) closed at 5,820, rising 0.1% or 7 points when compared to yesterday's closing position at the level 5.813. JCI in the first session of trading today moved in the range of 5,807-5,831.
The IHSG rebound in the mid-day break was underpinned by a 178 price increase on the IDX. In addition, 312 stocks were down, 107 stagnant and 175 shares were not traded at all.
Total stock trading transactions in the first session of trading today stood at Rp3.58 trillion with trading volume of 4.82 billion units of shares. Meanwhile, foreign investors bought net shares worth Rp19 billion, but with net sales volume of 10 million units of shares.
Five of the 10 sectoral indices of BEI have been green. Index of mining sector experienced the highest increase, which is 0.68% or 9.99 points to the position of 1.470. Then followed by index of financial sector and index of property sector which each increase 0,61% and 0,20%. Meanwhile, the index of the infrastructure sector experienced the deepest decline, which amounted to 0.48% or 5.77 points to 1,196 positions.
LQ45 stocks that rose and became the top gainers in the first session of trading today are the shares of PT Vale Indonesia Tbk (INCO) whose price rose 3.9% or Rp90 to Rp2.390 per unit, shares of PT Lippo Karawaci Tbk (LPKR) Whose price was raised 3% or Rp20 to Rp695 per unit and shares of PT Aneka Tambang Tbk (ANTM) whose price increased by 2.9% or Rp20 to Rp720 per unit.
Meanwhile, the top gainers of LQ45 are PT Indocement Tunggal Prakarsa Tbk (INTP), whose price is reduced by 2.6% or Rp475 per unit to Rp17,500 per unit, PT Surya Citra Media Tbk (SCMA) Shrank 2.2% or Rp50 to Rp2,240 per unit and shares of PT XL Axiata Tbk (EXCL), whose price dropped by 1.8% or Rp60 to Rp3,220 per unit. (Abraham Sihombing)