East Flores NTT is Ready to Support National Food Self-Sufficiency
By : Herry Barus And Aldo Bella Putra | Saturday, January 06 2018 - 16:00 IWST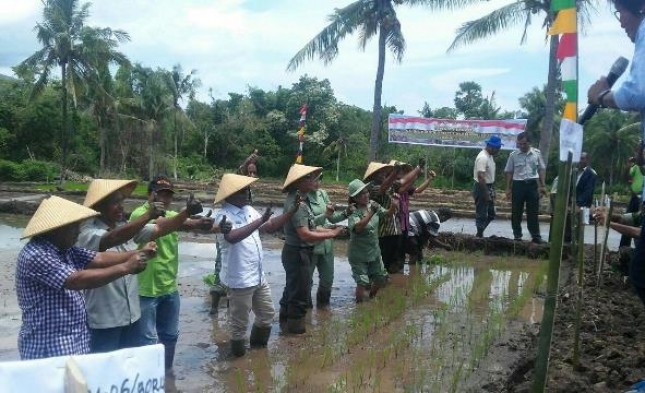 Flores Timur NTT Siap Dukung Swasembada Pangan Nasional
INDUSTRY.co.id - Flores - East Flores regency is recognized as a district with relatively wide marginal land area, where previously only able to be planted corn and sorghum or upland rice which is estimated that its rice area is only about 1,070 ha and even then mostly in rain-fed field.
Once there is a Special Effort Program (Upsus) food self-sufficiency in early 2015 is now East Flores rice field, data position december 2017 has reached 5,028 ha.
In addition to clearing rained land, even now there has been a new paddy field supported by TNI-AD from Kodim 1624 recorded in 2016 covering 72 ha, in 2017 40 ha where now on a new rice field of 39.4 ha has been planted with new high yielding rice varieties nationwide.
Thursday, January 4, 2017, in a new paddy field area was first planted on 10 ha by Vice Regent of Flores Timur, Agustinus Payong Boli, accompanied by Head of Agricultural Service Antonius W. Sogen and Dandim 1624 East Flores Lieutenant Colonel INF Dadi Rusyadi and all mother Persit Kodim 1624 Flores Timur and all her babinsanya and ranks of agriculture include extension, THL, Mantri Tani and even present also ranks of OPD Flores Timur district.
The head of East Flores Agriculture Agency, Antonius W. Sogen, stated that the area of ​​rice field is only 1,070 ha of rain-fed rice field, now there are 5,028 ha plus new paddy field by the Kodim 1624, showing the seriousness of East Flores Government actively participating and optimizing the series Kementan assistance. That is starting from alsintan cultivation and post harvest smp with irrigation improvement with pompanisasi and pipanisasi and a number of other water structure buildings such as dam trenches, long storage and others that no other strongly support the efforts of irrigation water for farmers so that now farmers can plant more than once a year.
"Even in 2017 there have been farmers in Tanjung Bunga Flores Timur has changed a lot ranging from as a rainfed farmer farmer to a farmer farming land with alsintan and now the farmer is ready to become a breeder of rice seeds at least for the needs of the surrounding farmers because it has understood that rice seeds sold with an expensive price and definitely needed farmers around, "so called Antonius in East Flores, Friday (5/1/2018).
The change of "mind set" of Flores Timur farmers is now changing a lot. The reason has been to understand that with the acquisition of irrigation water in his land and alsintan for planting (rice trnsplanter) and alsintan for harvest in the form of "combine harvester".
"Both accelerate the harvest and accelerate planting so that every time there is planting and harvest," said Antonius.
Antonius asserted that East Flores has now been able to prepare for no longer food shortages (its main rice). This is evidenced by in December 2017 and January 2018 there is a planting area of ​​rice and rice harvesting area.
"There is more land that has been prepared for 1,000 ha of sorghum plantation in a very dry land rocky with the completeness of post-harvest technology and innovation processing sorghum supported by BPTP NTT Agricultural Research Agency," he concluded.