Today Golkar Chairman Attends Consolidation of South Sulawesi Election Victory
By : Herry Barus And Aldo Bella Putra | Sunday, January 07 2018 - 21:00 IWST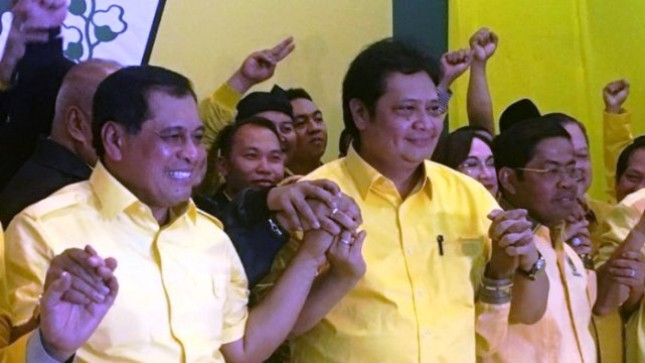 Airlangga Hartarto Ketum Partai Golkar (Foto Dok Industry.co.id)
INDUSTRY.co.id - Makassar - Chairman of DPP Golkar Party Airlangga Hartarto is scheduled to attend consolidation of regional electoral winners in South Sulawesi.
"The arrival to Makassar, South Sulawesi as a form of commitment of the Chairman to win the pair of Candidate Governor and Vice Governor Nurdin-Aziz in the region, as well as give blessing to this couple to register at KPU," said spokesman NH-Aziz, Risman Pasigai, in Makassar, yesterday.
According to him, after being appointed as Chairman, Airlangga Hartarto chose Makassar as the first visit area on Sunday, January 7, 2018, or tomorrow.
In addition, the Minister of Industry will lead the consolidation of the winner of the pair of Governor and Vice Governor of South Sulawesi, Nurdin Halid-Aziz Qahhar Mudzakkar (NH-Aziz), which was held Grand Clarion Hotel Makassar.
His arrival to Makassar with a number of board members of the DPP aside as a form of full support to the couple, the consolidation will also be attended by thousands of Golkar cadres as well as elements of internal winning Beringin South Sulawesi.
The Chairman's visit, he added, is a form of concern for the cadres who are struggling in the regions. Its presence is also as a form of support to win the election of Governor and Regent of Mayor in South Sulawesi June 27, 2018.
It is scheduled to present all the NH-Aziz winning nodes, as well as the maturation of the winning strategy to face the Mayor Regent Election in 12 districts of South Sulawesi.
Risman is now Vice Chairman of the Ministry of Home Affairs, Golkar added, besides giving full support to the NH-Aziz partner in Makassar, Airlangga will stay in touch and see the readiness of the committee and the cadres in the region to win the election.
Meanwhile, Chairman of the NH-Aziz Victory Consolidation Committee, Andi Yagkin Padjalangi said the preparations for the consolidation were almost completed and all equipment and accommodation had been prepared.
"We have completed everything and we have prepared everything for the purpose of this event, especially in welcoming the Chairman." All cadres and winning teams have been invited and declared ready to attend," said Yaqkin legislator of South Sulawesi DPRD. (Ant)