60% Economic Power of Indonesia is in MSMEs Sector
By : Ridwan And Aldi Firhand. A | Saturday, January 13 2018 - 14:07 IWST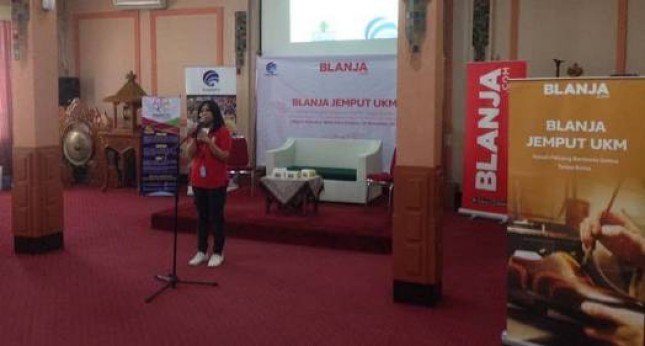 Head of Public Relations Blanja.com, Rieka Handayani
INDUSTRY.co.id - Jakarta - 2018 is predicted to be the peak of creative economic growth. This is based on the BEKRAF survey data with the Central Bureau of Statistics (2016) that the creative economy industry in Indonesia in 2015 recorded Rp852 trillion in national gross domestic product (GDP), and in 2016 was Rp 922.58 trillion contribution to the National GDP of 7.44%.
The development of creative economy industry can not be separated from e-commerce in Indonesia. Even the Head of Investment Coordinating Board (BKPM) mentioned that e-commerce growth reaches 60% -80% per year. The unstoppable digital market makes e-commerce can be one of the foundations of Indonesia's economic strength.
Projection quoted by Price Waterhouse Cooper (PWC), put Indonesia will be in the fifth position. Gross Domestic Product (GDP) of Indonesia in 2030 is predicted to reach $ 5.424trillion.
As we all know, the government encourages Indonesian SMEs to go online because 60 percent of Indonesia's economic power is in the sector of MSMEs, and now the government provides channels for SMEs to expand their business through e-commerce.
In line with that, the marketplace which has unique selling point "power of synergy group", BLANJA.com, has a mission to encourage the acceleration of Indonesia's digital economic growth through increasing opportunities for ORIGINAL INDONESIA products penetrate the national and international markets.
As reported by Information commission, that SMEs as a representation of the people's economy because it can absorb labor ± 90% and contributed 58% in the National Gross Domestic Product.
"The creative economy industry that is engaged in digital infrastructure continues to grow rapidly and offers a variety of solutions that can help creative industry players and here is the role of BLANJA.com, unlocking limitations, encouraging change, and increasing opportunities for local products to compete with products import, "explains Aulia E. Marinto, CEO of BLANJA.com
Rieka Handayani as Head of Public Relations BLANJA.com added BLANJA.com has a #BLANJAJEMPUTUKM program where we present to reach SMEs in all corners of Indonesia in order to improve the quality as well as mentoring, ranging from educating how to open an online store, product photo tips which appeal to an effective marketing strategy.
#BLANJAJEMPUTUKM synergize with various stakeholders; government through 5 (five) Ministries, namely Ministry of SOE through RKB (Kretif BUMN), Ministry of Communications and Informatics in training of eight (8) million UMKM Go Online, Ministry of Industry in IKM e-smart program, Ministry of Social Affairs and Trade Ministry, Smesco , E-Commerce Association of Indonesia (idEA) with the program of e-UKM, IWAPI, and others.
During 2017, this program has successfully makes online approximately 30,000 SMEs scattered in 60 cities of Indonesia and this rose about 390% from the previous year in 2016. The growth of SMEs increased significantly. The hope that the perpetrators of this SMEs not only become online sellers, but become online business.