RR: Bulog is now lazy and passive
By : Herry Barus And Aldo Bella Putra | Sunday, January 14 2018 - 15:00 IWST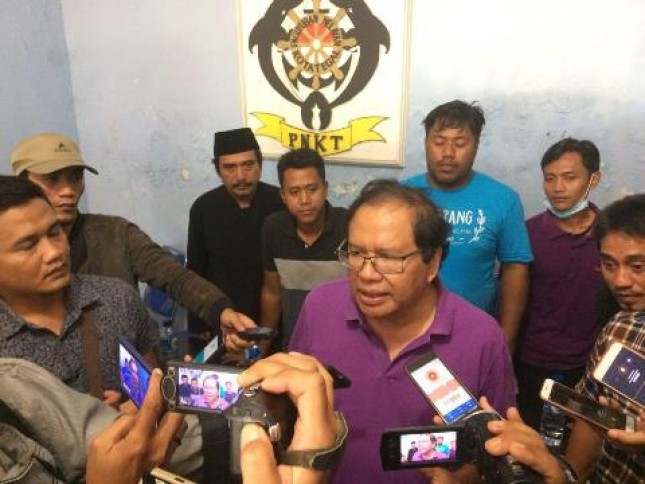 Tokoh nasional Rizal Ramli (Foto Dok Industry.co.id)
INDUSTRY.co.id - Jakarta - Senior economist Rizal Ramli strongly criticized the government's rice import policy in early 2018.
"It's a miracle that there is a decision to be imported in two or three days, which is right, it will soon be harvested, which makes farmers more miserable," said Minister of Economy Affairs at the era of President Abdurrahman Wahid (Gus Dur) in Jakarta yesterday.
According to Rizal, one of the parties to blame in this case is Bulog.
"It's been a funny thing, it's been 50 years of experience, knowing the stereotypes and facts about stabilization, but in the last two years, lazy and passive Bulog is between intentionally and unintentionally I do not know, I understand every year must buy how much," said Rizal who also served as Head of the Bulog.
Rizal questioned the fact that rice prices in Thailand and Indonesia differ too greatly. This problem should be addressed quickly by Bulog. Unfortunately, Rizal said, in the harvest in 2017 yesterday Bulog is not aggressive to buy rice from farmers.
"There is something wrong in the distribution system that Bulog officials are lazy to buy directly to the farmers and use the middlemen to buy," he said, adding that the price received by farmers is only 20-30 percent of the government's benchmark rice price. The target of 2 million tons of rice stock is unfulfilled, Rizal explained.
Rizal also asked that Bulog should dare to do bluffing to beat rice speculators. During this time Rizal said, Bulog determines the rules if the stock of 2 to 3 million tons of rice to control the distribution of rice in the market as much as 30 million tons.
The former Coordinating Minister for Maritime and Resources also presented a graph showing the Indonesia-Thailand domestic price for the medium class. From year to year the number gapnya said Rizal getting bigger. During the reign of Abdurrahman Rizal said, for two years the price of rice was stable and barely rose as much as possible.
"In the past, Gus Dur's era could be stable without import, Nurunin rice price only with import is the easiest job," said Rizal.
Rizal explains if the way it was very simple. Every day, at 2 pm, Bulog receives reports from 10 major markets. If there is a report there is an increase of 50 silvers on the monitor screen there will be a yellow warning. Meanwhile, if already in the number 100 silver then there is a red warning. Rizal considers the moment to take care of the rice as if to take care of the currency.
"We used to keep the stock of 2 million tons to make stable market of 25 to 28 million tons, so if for example in Surabaya raise 100 silvers we contact its kabulog. That time there was a report that trade rice hold I ordered it had hit 150 thousand tons, flooded two weeks want to know who become a whiz, so make speculators stump," Rizal recalled.
For that, Rizal advised that in the future, Bulog should consider the importance of rice warehouse stock for the sake of stabilization. So if later there is a natural barrier or the weather will not have a major impact. Rizal returned to tell when he became head of Bulog first; he decided not to buy rice, but grain.
"Why grain? Because the grain is longer for the age of three years to add, so the fried rice grains we milled, in the village there is a job. Then it is high milling capacity, so there is excess capacity in the milling. If only imported rice ends at Bulog warehouse because they are only 5 years old, ironically it is sold to poor people, even though it is fodder," said Rizal.
Rizal asked Bulog to ensure rice stocks in the warehouse as well to avoid the interests of "Rent Seeker" or import and rent commission hunters. So people can buy good quality rice.
"Most importantly, imports should be avoided at harvest time, it is not fair for farmers, so Bulog employees directly buy to the farmers according to their favorable price," said Rizal, as reported by Rmol, co.
Finally, Rizal admits that Bulog is different from Bulog. In the past, Bulog did not recognize credit interest because they get the facility directly from the credit likihitas Bank Indonesia (BI).
"If the price of Bulog procurement is in interest now, I do not think it's a good commodity, so Bulog can increase purchases," Rizal said.