Apkasi Urges Government to Investigate 500,000Ton Rice Importation Problem
By : Herry Barus And Aldo Bella Putra | Wednesday, January 17 2018 - 18:00 IWST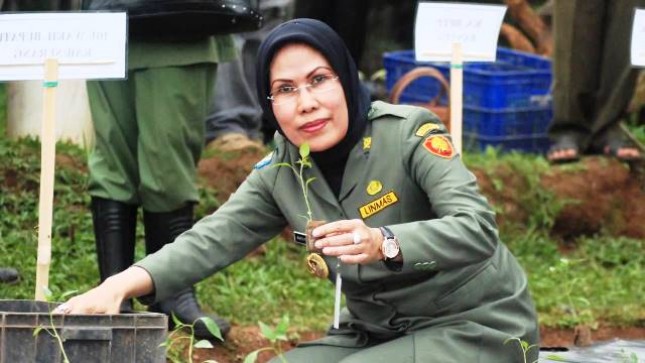 Bupati Serang Ratu Tatu Chasanah (Dok Industry.co.id)
INDUSTRY.co.id - Jakarta - The All Indonesian Government Association (Apkasi) asks the government to study the rice import policy plan of 500,000 tons from Vietnam and Thailand by looking back (crosscheck) real data on rice in the regions.
"Based on the data, facts and input from the bupati's colleagues to the board, Apkasi gives input to the central government to seriously study the policy of rice imports so as not to harm the farmers in the region," said Apkasi Chairman Mardani H Maming in a press release. Received on Wednesday (1/17/2018).
Mardani who also serves as Regent of Tanah Bumbu, South Kalimantan Province is also promoting the development of agricultural sector in the region, especially making it as a center for breeding of rice and corn for regional Kalimantan.
"The import policy is a very reasonable government effort to stabilize the price of a domestic commodity, but the policy must be thoroughly studied, otherwise this import policy can be counterproductive and can hit the condition of the farmers in the country" he said.
The same thing was also stated by the Regent of Serang Ratu Tatu Chasanah who said that the government should hear the voice of the regents who know directly the condition of rice commodity in the region.
According to him, the rice import policy is very impartial to the people.
"We are the ranks of the government and people of Serang Regency hoping the rice import plan will be studied further first," said Tatu Chasanah. She said the import policy will only burden the people who mostly work as farmers.
Serang district itself, said Tatu Chasanah, the new harvest will enter the third week of January. And is expected to last for two three months. Meanwhile, according to data owned the average rice or rice products in Serang always surplus every year.
The objection to rice import is also submitted by the Government of Serdang Bedagai Regency, North Sumatra.
In Sergei District, according to Soekirman Regent, starting this week to enter the harvest season while the price of rice in the area was spelled out very good, namely Rp5.000 per kilogram.
"Conducive conditions like this will certainly be damaged by the imported rice, so we are worried about the rice import plan," Soekirman said.
Regent Merangin Al Haris also revealed the same thing. According to him the rice stock is quite safe, and the yield of Pajale rice field program in Merangin is quite successful.
The Regent Mempawah Ria Norsan also supports Apkasi's attitude so that before the rice import policy is taken a thorough study is conducted first.
Meanwhile, Regent Kulon Progo, Hasto Wardoyo argued, as an agricultural country is very unfortunate if it continues to import various agricultural commodities, especially rice.