Half-Day Rest, JCI weakened to 6.427
By : Abraham Sihombing And Aldo Bella Putra | Wednesday, January 17 2018 - 21:00 IWST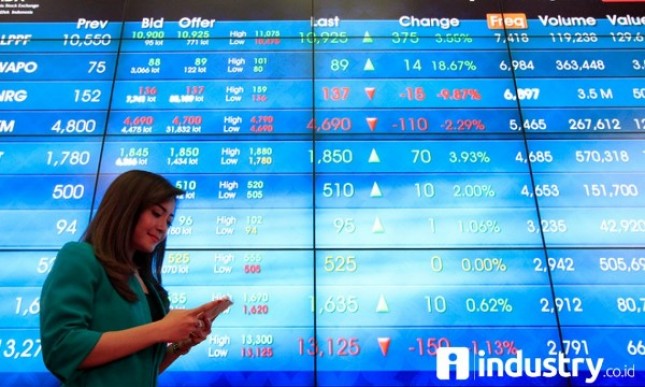 Pengunjung mengamati papan elektronik yang memperlihatkan pergerakan IHSG di gedung BEI (Foto Rizki Meirino)
INDUSTRY.co.id - Jakarta - Jakarta Composite Index (IDX) closed down 0.03% or 2 points to 6,427 position at the end of the first trading session on Wednesday (17/01/2018) compared to the position at the end of trading yesterday at the level of 6,429.
During the first session of trading today, JCI moved in the range of 6,420-6,437. A total of 151 stocks rose in price, 179 shares fell, 129 stagnant shares and 154 shares were not transacted at all.
The total transaction value during the first session of trading today was recorded at Rp4.83 trillion. It consists of transactions in the Regular Market worth Rp3.51 trillion, in Negotiated Market worth Rp1, 31 trillion and in the Cash Market of Rp2, 39 billion.
Total trading volume in the first session of trading was 102.49 million lots, resulting from 247,576 transactions. Foreign investors booked net selling of Rp155.82 billion with sales volume of 387,970 lots.
Four of the nine sectoral indices of BEI are green. The index of basic industry sector experienced the highest increase, which was 1.05% or 7.33 points to 703. Then followed by index of infrastructure sector and index of trade sector which each increased 0,35% and 0,09%.
While the index of miscellaneous industry sector experienced the deepest decline, ie by 0.7% or 9.64 points to the position of 1.357.
LQ45 stocks that experienced price hikes and became top gainers in the first session of trading today is the price of PGAS rose 11.7% or Rp220 to Rp2.100 per unit, SMGR whose price was raised 4.23% or Rp450 to Rp11,075 per unit and LPKR which increased by 3.48% or Rp17 to Rp505 per unit.
LQ45 stocks that became top losers were BMTR which cost 2.92% or Rp20 to Rp665 per unit, SMRA whose price decreased by 2.46% or Rp25 to Rp990 per unit and ADRO whose price decreased 2.28% or Rp50 to Rp2 .140 per unit.