Munaslub of Hanura Party Kubu Sarifuddin Sudding will be in vain
By : Herry Barus And Aldo Bella Putra | Thursday, January 18 2018 - 14:00 IWST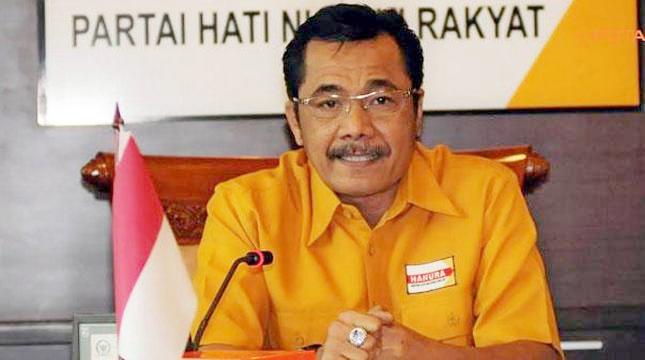 Sekjen Partai Hanura Syarifuddin Sudding. (Foto: IST)
INDUSTRY.co.id - Jakarta - Deputy Secretary General of DPP Hanura Party Tridianto considers that the Minister of Justice and Human Rights Decree concerning Hanura management restructuring affirms the legality of the party under the leadership of Oesman Sapta Odang (Oso).
"SK Menkumham insists that the Hanura Party under Mr. Oso's leadership is legitimate and legal so that the plan of holding the Munaslub by the Sarifuddin Sudding camp will be in vain," he said in Jakarta on Thursday (18/1/2017)
He considered the legality of Oso's leadership not to be debated after the decree of the Minister of Law and Human Rights so that the administrators of the Regional Executive Board (DPD) and the Chairman of the Branch (DPC) of the Hanura Party still in the Sudding camp were asked to return to the right path.
Tridianto believes the DPD and DPC managers who had joined Sudding's camp had already learned about the Minister's Decree so that it was hoped that they would be able to raise the party under the leadership of Oso.
"We hope that the DPC and DPD members who are still in the next camp can get back on the right track, I'm sure he already knows that Mr. Oso's camp has won the legal way," he said.
He hopes the party's internal will not continue to fluctuate and request that no Munaslub be held so that the party remains solid in order to welcome the 2019 election.
According to him, now all cadres and party elements should focus on consolidating the winning of elections and preparations for the 2019 election.
"There is no need for the Munaslub, if you want regular National Congress scheduled for two more years or in 2020 and now focus on consolidation and winning the elections and preparation for the 2019 election," he said.
Internal conflict, according to Tridianto, only wasted energy and hoped that the cadres, both Sudding and OSO camps, re-united in order to win the 2019 election.
He said the party cadres in the DPR focus on carrying out their duties and fostering election areas (dapil) while not yet a member of the legislature, to help consolidate the organization and foster candidate dapil.