Support the Tourism Industry, Yogyakarta Art Festival Improve Creativity of Artists
By : Aldi Firhand Alqudri | Sunday, July 30 2017 - 22:46 IWST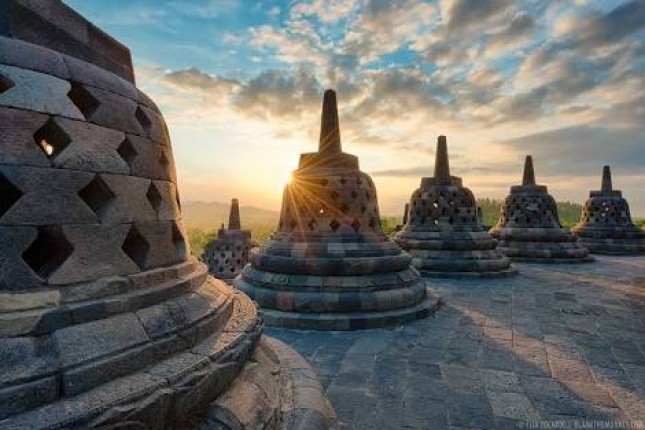 Borobudur Temple
INDUSTRY.co.id - Bantul - Yogyakarta Art Festival to be held in the area of ​​Planet Pyramid at Jalan Parangtritis Bantul regency, Yogyakarta Special Region, on July 27 to August 13, 2017 is expected to trigger the creativity of new actors in it.
"From year to year FKY (Yogyakarta Arts Festival) always collaborate various things and in this new place FKY is expected to trigger new creativity," said Director General of FKY 29 Setyo Harwanto in Bantul, not long ago.
According to him, the title of FKY in 2017 put forward different artistic perceptions as well as want to see the development of new place potential, because FKY titles in previous years were held in Yogyakarta City area.
FKY 29 takes the theme of `Umbar`, which is taken in the hope that this activity becomes a festival room where community members can momentarily release the fatigue as well as get a new freshness.
"FKY 29 is also designed as a cultural space that is expected to trigger a unique and unique creativity when people play in it," he said.
Furthermore, Setyo said FKY 29 is treated as a space of appreciation as well as a container to find a distinctive tradition within the arts ecosystem in Yogyakarta.
He added that by shifting the festival space to the southern region of Yogyakarta or in the region of Bantul, FKY this time trying to approach the producers of creative arts.
"And FKY 29 is not just a space for transactions, but also a presentation space, and Planet Pyramid is considered one of the best places to blend market and cultural values," said FKY Chairman 29 Roby Setiawan.
FKY 29 centered in Planet Pyramid Bantul region will feature performances from traditional and contemporary arts groups such as Gamelan Sekar Wangi, Pink Kavaleri Dance and Jogja Hip Hop Foundation.
"FKY 29 will also feature several overseas performers such as Jennifer Rose (United States) who plays dance and music performances on the Art Market Stage," he said.