Millions of songs Owned by Warner Music Now Handled by Nagaswara Publisher
By : Amazon Dalimunthe And Aldi Firhand A | Thursday, February 01 2018 - 19:53 IWST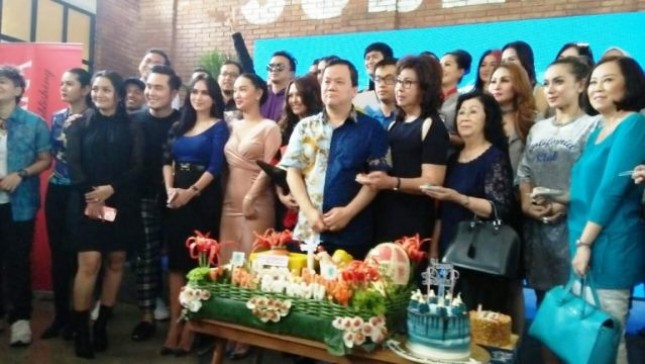 Nagaswara's CEO, Rahayu Kartawiguna in the midst of the artist and his employees.
INDUSTRY.co.id - Jakarta- One of the major international labels, Warner / Chappel Music (WCM), yesterday officially diverted the rights of their thousands of song publication to PT Nagaswara Publisherindo Musik. This is marked by the signing of cooperation with Warner / Chappell Music (WCM) and Nagaswara in Jakarta, Wednesday (31/1).
Nagaswara was represented by NMC CEO Rahayu Kertawiguna while WCM represented Ms. Jacqueline Chong as Senior Licensing and Marketing Manager of ASEAN Licensing Dapartment Warner / Chappell Music.
The cooperation will further reaffirm the commitment of the company that stood since 1999, increasingly worldwide according to the motto of Nagaswarafor The World. "We know that WCM is one of the world's music publishing companies. Then the confidence given to PT Nagaswara Publisherindo Music to manage the usage of their songs in Indonesia is certainly our appreciation, "said NMC CEO Rahayu Kertawiguna who has developed NMC for 19 years.
Rahayu is optimistic that he will give a profit value from the commitment of cooperation with WCM, in addition to want to learn more from the experience and big name Warner / Chappell Music.
WCM is a global Publisher Music under Warner Music Group. Manage millions of songs from tens of thousands of International composers. The company has a sub-publisher or representative office that manages their songs in various countries around the world.
For more than 200 years, WCM artist catalogs include Barry Gibb, Led Zepeliin, Beyonce, Eric Clapton Nate Rues, Katy Perry, Lionsgate Films, Madonna, Rihanna, Radiohead Muse, Red Hot Chili Peppers, Kendric Lamar, including Bruno Mars who has just swept the major music awards in the 2018 Grammy Awards.
While. NAGASWARA Music Corp. or NMC going to 19 years in charge of PT.NAGA SWARASAKTI, NAGASWARA Publisherindo Music, NAGASWARA Artist Management NAGASWARA Radiotaman and NAGASWARA Videos and Movies. The artists under the auspices of NMC are; Wali, Zaskia Gotik, Fitri Carlina, Siti Badriah, Delon, Firman, The Virgin Black Champagne and others.
The artists participated as witnesses, when Rahayu and Jacqueline Chong signed a memorandum of understanding, while also celebrating Rahayu's birthday that same day celebrates the 53rd anniversary. (AMZ)