President Jokowi: Preserving Local Culture Wisdom is Very Important
By : Aldi Firhand Alqudri | Monday, July 31 2017 - 00:19 IWST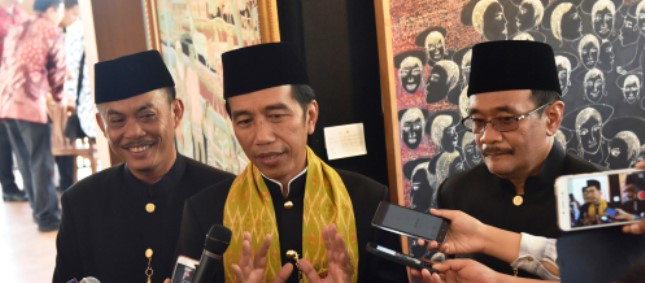 President Jokowi Attend Lebaran Betawi X
INDUSTRY.co.id - Jakarta- President Joko Widodo says preserving and caring for local cultural wisdom is vital to ward off foreign cultural intervention.
"Caring for and maintaining local cultural wisdom is very important because the intervention of western civilization and civilization of other countries is very urgent for us," said the President while attending the Betawi Lebaran at Betawi Cultural Village Setu Babakan, Jagakarsa, South Jakarta, Sunday (30/7/2017 )
According to Jokowi, maintaining and preserving the culture is not only physical development, but also art, architecture and typical of existing food.
The President also revealed the development of Betawi Cultural Village Setu Babakan will continue to be done, in addition to internal development as well as widening access road will also be done.
Jakarta Governor Djarot Saiful Hidayat revealed there are three commitments Jokowi for Betawi culture development.
First, Djarot said, building a mosque in the city hall neighborhood was inaugurated by the name of Fatahillah Mosque.
"Plus his commitment to build the first mosque in Jakarta has also been completed and has been inaugurated with the name of the Great Mosque of Hashim Ashari," he said.
Furthermore, the second commitment, said Djarot, to preserve Betawi ornaments has also been implemented, including the use of traditional betawi clothes and also architecture gigibalang (teeth grasshoppers).
"All buildings in Jakarta are always there gigibalang.That is the commitment of Mr. Jokowi," he said.
The third commitment, namely to develop Betawi culture centered in Betawi Cultural Village in Setu Babakan has also been implemented.
"We have decided together with Bamus Betawi that Lebaran Betawi will be concentrated every year in Setu Babakan, not to move again," said Djarot.
The governor says Jokowi's commitment is so high as to know his ancestors to the present day of the egalitarian Betawi people, full of tolerance and respect for each other.
"It is true that can harmonize with the environment so it is not surprising that all the villages in Betawi is mostly called fruit or plants," he said.
Djarot also said that the first President of Indonesia Soekarno did not wrongly declare Jakarta as the state capital because as a miniature of Indonesia.
Djarot also said if there is a discourse there moved the state capital to other provinces, he was not sure because Jakarta as aura and the embryo of miniature Indonesia.
"It would be better if not discoursing again," said Djarot.
After delivering a speech, Djarot accompanied the President around every building in Setu Babakan.
In this event was also attended by Tourism Minister Arief Yahya, Head of Creative Economy Body Triawan Munaf, Chairman of Majelis Ulama Ma'ruf Amin and also Vice Governor of DKI Jakarta was elected Sandiaga Uno.
The celebration of Lebaran Betawi is attended by various attractions and the courage along with the Betawi food stalls is full of people.