Buwas Acknowledges 90 Percent of Drug Cases Involve Prison
By : Herry Barus And Aldo Bella Putra | Saturday, February 10 2018 - 20:30 IWST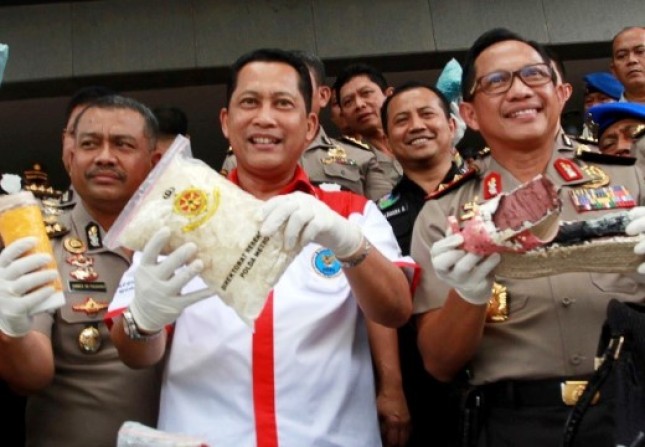 Kepala BNN Komjen Pol Budi Waseso (Foto Dok Industry.co.id)
INDUSTRY.co.id - Surabaya - Head of National Narcotics Agency Komjen Pol Budi Waseso revealed that 90 percent of drug cases in Indonesia involve existing networks in correctional institutions (prisons).
Buwas greeting familiar Budi Waseso after laying the first stone of new building BNNP East Java in Surabaya, Saturday (10/2/2018) said during this time his party always committed to fighting drugs by shooting dead offenders, but he was disappointed because the punishment was not as expected.
"Until now, 90 percent of the drug disclosure that we do always involve prisons is a fact," said the former head of the Police's Criminal Investigation Unit.
BNN, he added, some time ago also just revealed the case of 20 kilograms of drugs in Aceh that involves the prison network. With that disclosure, BNN must work harder to eradicate drugs.
Asked if there is a misunderstanding of communication with the Ministry of Law and Human Rights related to the existence of drug circulation of prison network, he asserted no. That's because there is already a system that governs it.
"The issue is that we are not committed and inconsistent with that commitment, we break the commitment, so our existing system is broken," he said.
Buwas pointed out; in the prison there are rules that do not allow prisoners to use mobile phones. However, the reality on the ground, people want to buy a mobile phone any brand and a number that change every day can.
"Well, the evidence is that he can get in touch with overseas, that's the result of our monitoring and that's a fact, if I can open it now," he said.
He said, who did that should be executed for traitors. "Executed in the field just do not have to use a gun because he is killing the nation," he said.
He stated that BNN has authority within the law. Cannot enter more deeply related to prison. Therefore, each agency has its own authority and accountability.
"Our hope, all agencies can obey the rules and implement them in accordance with their respective roles and the mandate of the state," he said. (Ant)