Waskita Karya Is Optimistic To Able Completing 15 PSN As Scheduled
By : Abraham Sihombing And Aldo Bella Putra | Wednesday, February 14 2018 - 23:00 IWST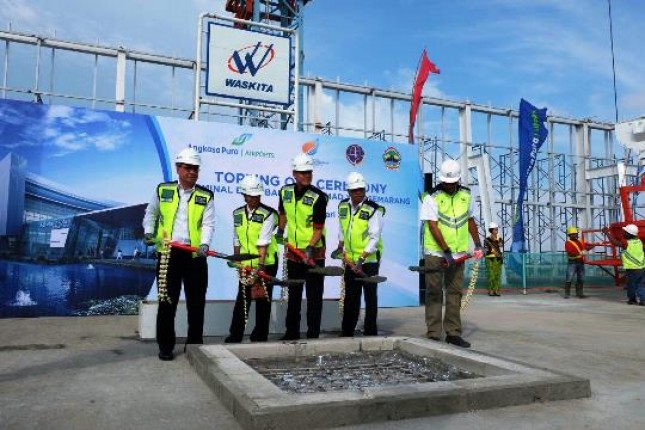 PT Waskita Karya (Foto Dok Industry.co.id)
INDUSTRY.co.id - Jakarta - PT Waskita Karya Tbk (WSKT) is optimistic to be able to complete 15 National Strategic Projects (PSN) on time in accordance with their respective schedule and keep priority on safety and health throughout the projects.
Thus disclosed M. Choliq, President Director of WKST, in Jakarta, Wednesday (14/02/2018).
"Up to now, all of the projects are still on schedule. Going forward, we will pay more attention to various aspects of work safety, quality, safety procedures and job security, "said Choliq.
The fifteen PSN currently being undertaken by Waskita Karya are infrastructure projects, namely 57.5 km of Pejagan-Pemalang Toll Road, Pemalang-Batang Tol along 39.2 Km and Pasuruan-Probolinggo Toll along 31.3 Km.
In addition, Waskita Karya also works on the Kali Agung-Palembang-Betung Highway along 111.69 Km, Cimanggis-Cibitung Toll along 25.39 Km, Becakayu Toll Road along 21.04 Km, Tol Ciawi-Sukabumi along 54 Km and Depok-Antasari Toll along 21.54 Km.
Other infrastructure projects are Toll Road for the Great Panggang-Pematang Panggang along 112 Km, Toll of Panggang-Kayu Agung Highway along the 77 Km, Cibinco-Cilincing Toll along 34.02 Km, 35 km Kanci-Pejagan Toll and Legundi-Bunder Toll for 38 , 29 Km.
Now, the total toll roads Waskita Karya has reached 1,315 km. It is spread in Java and Sumatra, both as contractor and investor.
"We expect to operate 564 km of toll roads in the first half of this year and the rest will be operated in the second half of this year and 2019," Choliq said.
Waskita Karya is also working on the construction of a 500 KV Sumatera power transmission project along the 395 km stretching from New Aur Duri to Peranap. The development of this project aims to support the program of equitable distribution of electricity use in Sumatra Island.
The project, which began in 2015 and the contract value of Rp 6, 1 trillion is targeted to be completed in 2019. Up to now, the development progress has reached 49.7% for package I and 47.5% for package II.
Another PSN which is also built by the company is the Light Railway Train (LRT) in South Sumatra. The project is the only assignment from the government through Perpres no. 116 of 2015 on the Acceleration of Light Rail Operation in South Sumatra Province.
The contract worth Rp10.9 trillion projects was built to support the 2018 Asian Games implementation. The project is targeted to operate in 2018 before the biggest Games in Asia is held. (Abraham Sihombing)