Baznas Cooperates with LAZ in Zakat Disbursement
By : Nina Karlita And Aldo Bella Putra | Tuesday, February 20 2018 - 14:00 IWST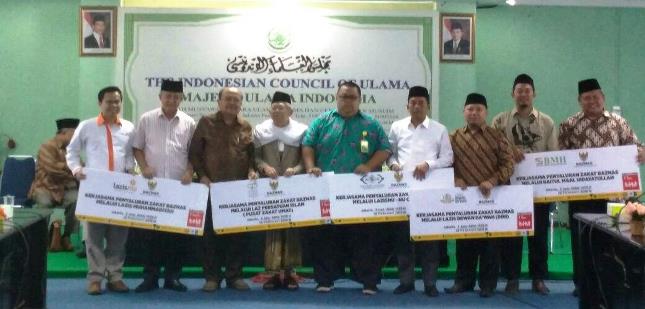 Ketua BAZNAS, Prof. Dr. Bambang Sudibyo, MBA, CA, (fOTO Dok Industry.co.id)
INDUSTRY.co.id - Jakarta - Badan Amil Zakat Nasional (BAZNAS) is partnering with an amil zakat institution (LAZ) to distribute zakat funds. This was stated by Chairman of BAZNAS, Prof. Dr. Bambang Sudibyo, MBA, CA, in the symbolic submission of Zakat Distribution Cooperation BAZNAS through LAZ-based community organizations (mass organizations) Islam. In the distribution cooperation, BAZNAS allocates about Rp 5 billion.
"We thank the support of MUI, Lazis Muhammadiyah, Lazis Nahdlatul Ulama and LAZ from various mass organizations such as LAZ Council Da'wah Islamiyah Indonesia (DDII), Baitul Maal Hidayatullah, LAZ Persis (Center of Zakat Umat) and Ordinary Society Wahdah Islamiyah to Baznas on the discourse of BAZNAS serving the people of Indonesia including civil state apparatus (ASN) to adjust the zakat," said Bambang Sudibyo, at the Office of MUI, Jl. Proclamation, Menteng, Central Jakarta, Monday (19/2/2018).
Present Chairman of the Indonesian Ulema Council (MUI), KH. Ma'ruf Amin, Vice Chairman of BAZNAS, Dr. Zainulbahar Noor, SE, M.Ec, Director General of Islamic Bimas Ministry of Religious Affairs who is also a member of BAZNAS, Prof. Dr. Muhammadiyah Amin, and Deputy BAZNAS, M. Arifin Purwakananta, member of BAZNAS drh. Emmy Hamidiyah, M.Si, KH. Masdar F. Mas'udi, Prof. Dr. Mundzier Suparta, Ir. Nana Mintarti, MP, and Prof. Dr. A. Satori Ismail.
Also seen are LAZ organizers, such as Lazis Muhammadiyah, Lazis NU, Lazis Da'wah Council (DDII), Lazis Center of Zakat Umat Kesatuan Islam (Persis), and Lazis Baitul Maal Hidayatullah (BMH).
As mandated by Article 5 Paragraph 1 of Act Zakat No 23 Year 2011 ie, to implement the management of zakat, the government established BAZNAS. Then, Article 6 of Zakat Law confirms, Baznas is an institution authorized to perform the task of zakat management nationally. Article 17, reads, "To assist BAZNAS in the implementation of collection, distribution and utilization of zakat, the community can establish LAZ."
In the distribution of zakat funds, infak and alms (ZIS), BAZNAS performs various channels through the provincial and district / city BAZNAS, program institutions, mass organizations, foundations and institutions that handle mustahik, either directly to mustahik or through cooperation in certain fields in helping mustahik.
On this day is the symbolization of zakat distribution of BAZNAS through LAZ. Support of mass organizations in the distribution of zakat BAZNAS will help transparent distribution, equitable and accountable in the eyes of the community.
Distribution through LAZ will target social, education, health and economic empowerment. All distributions are distributed to asnaf zakat and accounted for. BAZNAS will also encourage LAZ's capacity building in distributing zakat.
BAZNAS applies double monitoring in the form of monitoring and evaluation by independent team, internal audit, audit of public accounting firm (KAP), sharia audit, and also the implementation of ISO management to ensure the distribution in accordance with the shari'a of Zakat in the form of MUI Fatwa, Shari'ah opinion of sharia member of BAZNAS and applicable law, so as not to deviate from zakat asnaf which has clear rules.
BAZNAS will develop various other zakat distribution partnerships to serve the widest possible interests of the ummah, including supporting various MUI programs. Empowerment of empowerment coupled with the strengthening of da'wah will encourage the blessing and prosperity of Indonesia.
In the collection of zakat and distribution, BAZNAS will continue to be guided by the Islamic Shari'a, MUI Fatwa, guidance of clerics and laws that apply effectively and efficiently and carefully and cautiously.
This is so that the discourse of zakat development of Indonesia can run with blessing, that as much as possible the people of Indonesia can do zakat easily, safely and modern and the distribution of zakat funds of the ummah according to sharia, trustworthy, transparent and accountable. BAZNAS would like to thank all parties, including the media in this activity.