Internet Users in Indonesia Reach 143 Million People in 2017
By : Ahmad Fadli Dan Aldo Bella Putra | Tuesday, February 20 2018 - 16:00 IWST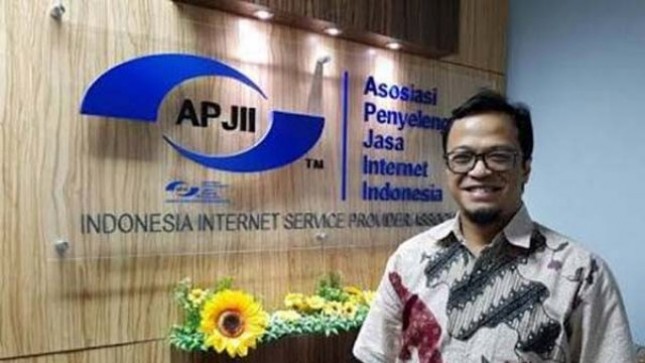 Sekretaris Jenderal Asosiasi Penyelenggara Jasa Internet Indonesia (APJII) Henri Kasyfi Soemartono. (Foto: IST)
INDUSTRY.co.id - Jakarta - The number of internet users in 2017 has reached 143.26 million people, equivalent to 54.68 percent of the total population of Indonesia.
The number shows an increase of 10.56 million people from the results of the survey in 2016. It was announced by the Association of Internet Service Providers Indonesia (APJII) after a survey of Internet user's penetration and behavior in Indonesia, Monday (19/02/2018), in Jakarta.
In response, the Director General of Aptika Semuel A. Pangerapan representing the Ministry of Communications and Information Technology expressed his appreciation to APJII who have conducted internet user survey. Because according to Semuel, the survey result data is very useful for the picture of Kominfo in the pursuit of the target of network internet distribution. "Acceleration of broadband development will continue to be done" said Semuel.
Semuel said, it can be estimated the number of internet users will increase. Given the word Semuel, the availability of the internet in Indonesia will be evenly distributed due to the construction of the Palapa Ring which was soon completed.
In addition, Semuel also mentioned, the data can be useful for all parties in need, especially the industry players in Indonesia.
On the other hand, APJII Secretary General Henri Kasyfi Soemartono said the increase was due to infrastructure development which made it easier for people to access internet services.
Henri hopes, with the data from the survey results the number of internet users from APJII, can be used for the description of the parties in need.
The composition of internet users by sex consists of 48.57 percent of women, and men as much as 51.43 percent.
For age-based compositions, the largest number is shown by people aged 19 - 34, at 49.52 percent. But for the greatest penetration is at the age of 13-18, ie by 75.50 percent.
While the second largest internet user penetration rate based on the economic level, which is in the lower middle society respectively 74.62 percent, and the upper middle society of 16.02 percent. It shows today, the benefit of the internet is not only accessible by the upper class only.
Henri who represents the APJII also said, for the public who require complete data survey results of user penetration and internet behavior 2017 can be downloaded on the official website APJII.or.id.