Construction and Renovation 15 Venue in GBK Already 100 Percent Completed
By : Hariyanto And Aldi Firhand. A | Wednesday, February 21 2018 - 21:03 IWST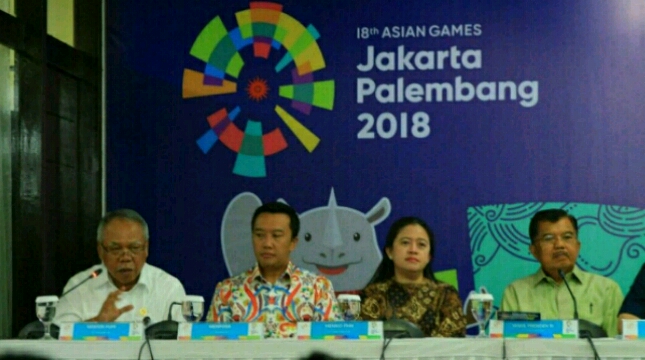 Coordination meeting on the preparation of the Asian Games XVIII
INDUSTRY.co.id - Jakarta - The Asian Games XVIII 2018 will be held soon. A total of 82 venues were prepared, divided into 31 venues by the Ministry of PUPR, 14 venues by the Provincial Government of DKI Jakarta, 13 venues by the South Sumatera Provincial Government, 2 venues by West Java Provincial Government and 22 venues by Inasgoc.
Minister of Public Works and Public Housing (BPR) Basuki Hadimuljono as Chief Executive of Facilities and Infrastructure said that the construction and renovation of 15 sports venues done by the Ministry of PUPR in Gelora Bung Karno Complex has been completed 100%.
Then venue Paddle and Shooting Range at Complex Jakabaring Sport Center (JSC), Palembang has been completed and Wisma Athlete Kemayoran has also been completed.
"Currently the work being completed by the Ministry of PUPR in these three areas is the arrangement of the area," said Basuki at the coordination meeting of the preparation of the Asian Games XVIII at Wisma Serbaguna, INASGOC Building, Senayan Jakarta, Monday (19/2/2018).
Regarding the sandbox used for long jump and jump jumping, Minister Basuki said, already held a meeting to discuss the necessary improvements by paying attention to the Main Stadium of GBK as a cultural heritage.
Besides conducting the development and rehabilitation of sports venues and athletes' homes in accordance with Inpres 2 of 2016, the PUPR Ministry also gets additional task to build screen venues and Jetski in Ancol and elevated parking and Cofftea House in GBK Complex.
Physical progress per February 17, 2018, for venue jetski and screen reached 2.71% and targeted to be completed in August 2018. While elevated parking and cofftea house reached 7.61% with the target is completed in August 2018.
Some additional venues are also done by the Ministry of PUPR namely renovation of padepokan silat, renovation of 11 venues in West Java in the form of soccer field, slalom canoe and paragliding will be completed in June 2018.
For venue equestrian and velodrome which is the responsibility of the Government of DKI Jakarta progress has 98% and 83% and will be completed in June. The renovation of 10 GORs in Jakarta is currently 23.44% and is targeted for completion in March 2018.
At the JSC Complex, South Sumatera Provincial Government has completed Venue Bowling, Gelora Sriwijaya Stadium, Bumi Sriwijaya Stadium, JSC Athletic Stadium, Ranau Stadium for Sepak Takraw, Dempo Stadium and Tennis Stadium, Beach Volleyball Arena, Aquatic Center, Sport Science Center and Venune Triathlon.
A total of 40 sports (Cabor) will be contested, with 29 Cabor competed in Jakarta, 11 Cabor in South Sumatra and 6 Cabor in West Java.