Bantaeng Regency Government Cooperate with Jababeka Regional Development Growth
By : Hariyanto And Aldo Bella Putra | Thursday, February 22 2018 - 14:00 IWST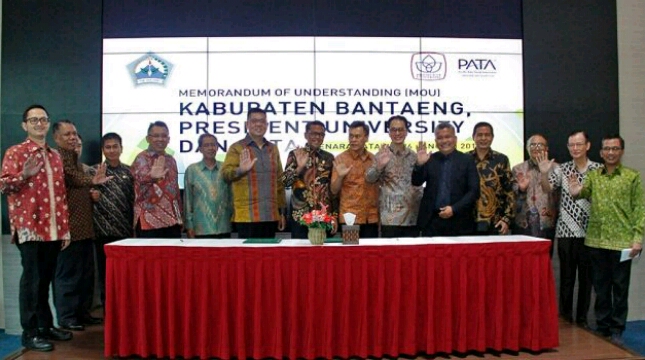 Kerjasama Pemkab Bantaeng dan Jababeka Group (tpp)
INDUSTRY.co.id - Jakarta - Bantaeng District Government began to boost regional development by signing a memorandum of understanding with Jababeka Group to develop Bantaeng Industrial Estate which was held today in President Lounge, Batavia Tower Jakarta, Friday (26/1/2018).
Cooperation with Jababeka Group includes several things, including with President University on education and with Pacific Asia Travel Association (PATA) in terms of tourism and field development KIBA.
The signing was done by Bantaeng Regent Nurdin Abdullah, President Director of PT Jababeka Budianto Liman, CEO of PATA Poernomo Siswoprasetijo, and President University Rector Jony Haryanto.
"Bantaeng is the smallest regency in South Sulawesi, but we are grateful for having a very plenary area, starting from the coast, lowland, and highlands, all we have managed to the maximum," said Bantaeng Regent Nurdin Abdullah.
Meanwhile, President Director of PT Jababeka Budianto Liman said that his side is ready to receive the sons of the region from Bantaeng Regency to continue education at President University and cooperate with PATA. "We are ready to support tourism in the local area," he said.
It is also a follow up of his visit to Bantaeng District recently. "To attract investors, it must first attract tourists to the area. By already know the use of the area, they've seen other potentials that they can bring or buy the product, "he continued.
President University Rector Jony Haryanto on the same occasion said that President University is ready to cooperate with Bantaeng Regency to promote the people of Indonesia.
"In general, we have worked with some regency and the President University's statistics are 96% because in addition to full English, we are located in the middle of an industrial area. So our lab is organic. We have an electrics study program, if later the apprenticeship can be in Bekasi Power as well as other purni. We continue to improve these statistics in order to reach 98%," he explained.
CEO PATA Poernomo Siswoprasetijo explained it also has cooperated with several districts in the province that has tourism potentials. "With the head of the region that has a high commitment in developing tourism, hopefully get the best results from tourism in the world of tourism and international," he said.
KIBA is presented to facilitate public access in reaching basic needs in various fields. With the KIBA of course many people get the basic needs of cheap so no need to bother again to Makassar, and increase economic perputran in Bantaeng.
KIBA is supposed to be present in Bantaeng, the location of Bantaeng located at the strategic point it will be easy to reach neighboring districts such as Selayar, Bulukumba Jeneponto, and Sinjai.
Meanwhile, Jababeka Group through Jababeka Industrial Park has about 1,650 national and multinational companies from 30 countries including the United States, Britain, France, Germany, the Netherlands, Australia, Japan, China, Taiwan, Singapore, and Malaysia and has employed over 700,000 workers and 4,300 expatriates.
The company also has tenants consisting of multinationals such as Loreal, ICI Paints, Mattel, Samsung, Unilever, United Tractors, Akzo Nobel, and Nissin Mas.