BNI & Garuda Offer Travel Promo, Every Wednesday Cheaper Price With BNIWOW
By : Hariyanto And Aldo Bella Putra | Sunday, March 04 2018 - 19:00 IWST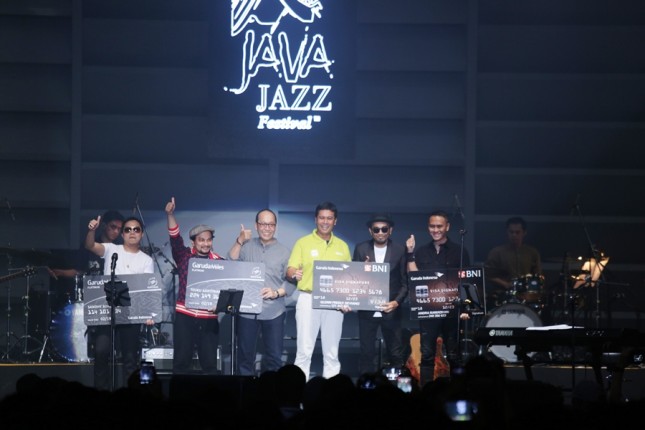 Direktur Bisnis Konsumer BNI Anggoro Eko Cahyo (ketiga kanan) berpose bersama Glenn Fredly (kedua kanan), Sandhy Sondoro (kiri), Tompi (kedua kiri), Direktur Kargo Garuda Indonesia Sigit Muhartono (ketiga kiri), dan Andra Ramadhan (kanan) usai member
INDUSTRY.co.id - Jakarta - PT Bank Negara Indonesia (Persero) Tbk or BNI together Garuda Indonesia organizes Online Travel Promo every Wednesday every day week. This program can be enjoyed by inputting BNIWOW promocode on Garuda Indonesia's website and mobile app.
In addition BNI and Garuda Indonesia give appreciation to the performing Artist at the Jakarta International BNI Java Jazz Festival 2018 in the form of Credit Card submission GARUDA BNI Signature submitted to Glenn Fredly and Andra Ramadhan, and submission of GarudaMiles Platinum Membership to Tompi and Sandhy Sondoro. Submission of GARUDA BNI Signature Credit Card delivered by Business Director Consumer BNI Anggoro Eko Cahyo in Jakarta, Saturday (March 3, 2018), on the sidelines of the event the biggest jazz music in Indonesia is Jakarta International BNI Java Jazz Festival 2018, at JIExpo Kemayoran. Attending the event was Director of Cargo Sigit Muhartono giving GarudaMiles Platinum membership.
Anggoro revealed, this event became one of the appreciations of BNI Artist who performed at the Jakarta International BNI Java Jazz Festival 2018. This event as well become a marker of the commencement of Online Travel Promo BNI & amp; Garuda. GARUDA BNI Credit Card has now exceeded 60,000 or grew 68% compared to 2016.
According to Anggoro, the issuance of GARUDA BNI Credit Card is a cooperation of BNI with Garuda Indonesia as the flag carrier of Indonesia, in terms of issuance GARUDA BNI Co-Brand Credit Card since July 2012.
"Until the period of January 2018, the number of GARUDA BNI Credit Card in circulation has reached 60,000 Cards consisting of 53,000 Platinum Cards and 7,000 Cards Signature. Especially for GARUDA BNI Signature Credit Card holders get bigger mileage bonuses as well as various exciting more benefits, " quoted Anggoro.
Meanwhile, Sigit said that the GARUDA BNI Credit Card is one form of synergy SOEs in order to provide more comfort to the service users of Garuda Indonesia and BNI customers to enjoy various added value airline and banking services.
"With the number of GarudaMiles users until 2017 this has reached more than 1.7 million members, through the existence of GARUDA BNI Credit Card of course has made it easy for all GarudaMiles members to conduct transactions in Garuda Indonesia," said Sigit.
BNI WOW Wednesday This ceremonial event signifies BNI and Garuda Indonesia to work together for host various online travel promos that will spoil the holders BNI Credit Card through attractive programs with the best price every week. One of the interesting promo program is BNI WOW Wednesday provide discounts up to 20%, additional direct rebates up to Rp 2.5 million and installment 0% tenor 3 months or mild interest 0.6% tenor 6 & amp; 12 months every Wednesday by using BNIWOW promo code at www.garuda-indonesia.com and mobile app Garuda Indonesia valid from March to May 2018. The future will be attached to BNI Credit Card holders & quot; Every Week from BNI and Garuda Indonesia Promo Every Week.
Special Credit Card GARUDA BNI will get an additional bonus mileage up to 4x miles and can collect up to 5,000 miles per month with only transact on www.garuda-indonesia.com and Garuda Indonesia mobile app. The attractive offer that can be chosen by BNI Credit Cardholder is attractive prices ranging from domestic flight routes such as Denpasar Rp 1.4 million, Makassar Rp 1.6 million, Labuan Bajo Rp 1.9 million, Raja Ampat Rp 2.5 million, up to international flights to Australia Rp 5.4 million.
The owner of GARUDA BNI Credit Card can enjoy various benefits with the card the credit they have, among others, the existence of double mileage on every transaction spending anywhere. Card owners can also enjoy bonus mileage up to 5,000 miles when they are approved and have transacted for the first time. Even, currently BNI will provide free mileage up to 72,000 miles (equivalent of 2 go- returning Jakarta - Labuan Bajo) for new Cardholders approved until April 2018.
In addition to mileage benefits, Cardholders can also enjoy the benefits of fast track upgrade to GarudaMiles Gold where membership level of GarudaMiles Card Holder can be directly upgraded to GarudaMiles Gold only by shopping transactions of Rp 8 million per month of billing during the first 5 (five) months of card ownership. Cardholders can enjoy the convenience of BNI's executive lounge while waiting Garuda Indonesia flights across all the cooperating domestic airports.