Megabuild 2018 Will Focus On Safe, Qualified and Environmentally Friendly Construction
By : Hariyanto And Aldi Firhand. A | Wednesday, March 07 2018 - 18:00 IWST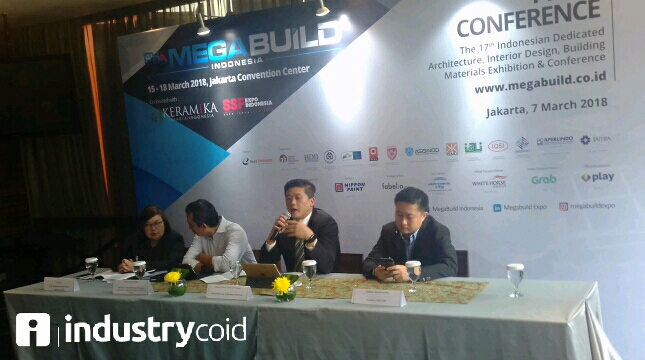 Megabuild Indonesia 2018 press conference (Hariyanto / INDUSTRY.co.id)
INDUSTRY.co.id - Jakarta - Starting in 2018, Reed Panorama Exhibitions (RPE) will bring back hundreds of business actors in the field of building materials, architecture, interior design and ceramics in the annual exhibition Megabuild Indonesia 2018.
The exhibition will be held at the Jakarta Convention Center (JCC) from 15-18 March 2017, will be held simultaneously with KERAMIKA 2018 and Security, Safety & Facility Management Expo Indonesia which is a one-stop exhibition that will answer all the needs of building materials and elements supporters.
The exhibition is supported by related associations namely the Indonesian Architects Association (IAl), the Indonesian Interior Designers Association (HDII), the Indonesian Engineers Association (PII), the Indonesian Security Systems Industry Association (AISKINDO), the Association of Integrator & Security Systems Indonesia (ASISlNDO) and the Joint Implementation National Construction (GAPENSI).
The need for building materials and its supporting elements has increased in line with the growth of the property sector in Indonesia. Based on the Residential Property Price Survey (SPHRR) published by Bank Indonesia, in Q4 / 2017, home sales grew by 3.05% (qtq).
Not only that, in line with the trend of Internet of Things (IOT), the concept of smart home such as the use of CCTV, alarm detector, gas sensor and security system using finger print (finger scan) becomes an important factor.
This year's Megabuild 2018 focuses on safe and smart buildings, focusing on functional design structures that have high aesthetic value, including selection of raw materials and technological features as a value added of the building or the environment itself, "said Steven Chwee General Manager Reed Panorama Exhibitions (RPE) in Jakarta, Wednesday (7/3/2018).
Smart home growth in Indonesia is driven by the property industry that offers automation as an advantage even more becoming a consumer demand. This technology is expected to be a solution for modern society that requires more privacy and comfort.
The benefits of new technologies are also felt by construction service providers and architectural consultants, where they are required to provide safe, quality, yet environmentally friendly building designs.
Construction of the project is even easier and shorter thanks to innovations such as in the field of construction of the use of pre-cast concrete (pre-cast) and wiring is very efficient.
"We believe that Megabuild 2018 will be able to bring new nuances and solutions for all stakeholders from the field of architecture, interior design and construction as well as technology device providers. This exhibition is a good place to introduce products, provide solutions and establish cooperation between all business actors," says Steven.
This year, continued Steven, Megabuild enlivened by business actors from 19 countries including from Singapore, Malaysia, Taiwan, China, India, Italy, Thailand, Japan, South Korea, Australia, United States, Mexico, Turkey Myanmar, Hong Kong, Spain, Germany, Brazil and Vietnam.
"In addition, this exhibition will bring the latest products in the building materials, architecture and interior designs in over 500 brands with 1,000 selected products," said Steven.
The brands and products of choice include 13 major product segments covering a wide range of building materials, design solutions, and the latest storefronts of technology and systems in which each other plays a role to drive the fast-growing construction and construction materials industry.
"The newest segment in this event is Security, Safety and Facility Management (SSF) featuring the latest technology security systems, Steven explained.
With a 30,000-square-meter exhibition area and is expected to absorb more than 50000 visitors, the 2018 Megabuild Indonesia exhibition will be the most complete cast for architecture, interior design and building materials in Indonesia in 2018.
During the exhibition, there will also be various business or professional programs such as trade exhibition, Green Building Council Indonesia Seminar, workshop by Indonesian Engineers Association (Pii) Association, Interior Design Clinic by HDII, Seminar by Landscape Architects Association of Indonesia IALl), new product presentation, business matching, network gathering by the National Construction Contractor Association (GAPENSI).