President Jokowi Asks for a Breakthrough in Forest Management
By : Aldo Bella Putra | Wednesday, August 02 2017 - 14:28 IWST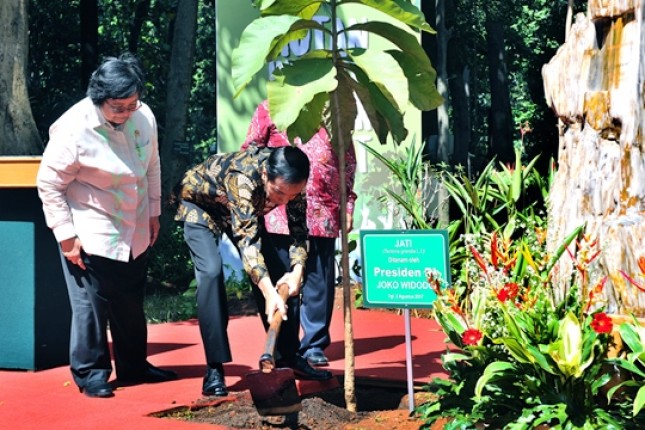 4723
INDUSTRY.co.id - Jakarta - President Joko Widodo in the celebration of Environment Day (HLK) 2017 in Jakarta, Wednesday (02/08/2017) asked for a breakthrough in forest management in Indonesia.
"First, the importance of a major forest development strategy is that has an economic and environmental dimension. We need to make a big correction should there be a 'corrective action' in order for a breakthrough, there is something big new that we have to do so that our forest management is better," The President said.
In the commemoration, President Joko Widodo witnessed the award of Kalpataru, Adipura Kencana, Adipura, Adiwiyata Mandiri and Nirwasita Tantra to individuals, groups, and local governments committed to preserving the environment.
"Do not think of routines, do not think linear, think monotonous, never make breakthroughs so that in so many years, sorry our forest management is in a monotonous position, a routine that there is no renewal there," said the President, Confirmed.
The President also requested that project-oriented programs should be stopped immediately.
"Do not be there any programs that the orientation of the project, have stopped it . The direction of focus, local concentration is localized but can be used as an example later the other live imitated for too long we work with project orientation, we bluntly, if I want Open one by one later crowded, you already know what I mean, " threatened the President as reported by Antara.
The President, who is a graduate of Forestry of Gadjah Mada University, requested that in the national working meeting (rakernas) of the Ministry of Environment and Forestry to create new thinking in forest management.
"Therefore in this Rakernas formulate new ideas for our forest management is really consistent management that we can do continuously and give good results," said the President.
He cited the management undertaken by Sweden and Finland whose economy 70-80 percent comes from forest management.
"I do not think we need to be difficult, 'copied' and adapted to the state of our country's forests, but the good forest management of the year should be our example, so 'sample', send from the Ministry of LHK see how forest management and the environment run Together, its economy can also its environment," added the President.
He hoped the breakthrough was also supported by all parties including the foresters.