Herbal and Cosmetic Industry Still Experience Slow Performance
By : Aldi Firhand Alqudri | Thursday, August 03 2017 - 10:00 IWST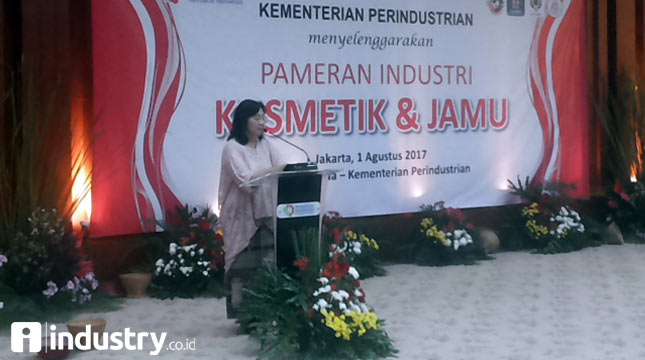 Direktur Jenderal Industri Kecil dan Menengah (IKM) Kementerian Perindustrian, Gati Wibawaningsih
INDUSTRY.co.id - Jakarta - Throughout the first half of 2017, real industry performance recorded stagnant. The decline in domestic consumption is also felt by the cosmetics and herbal industries. Slowing sales performance reached 7 percent when compared to the same period last year.
President Director of PT Martina Berto, Bryan Tilaar said, market demand in the cosmetics sector tends to stagnate. "Martha Tilaar Group is still growing at about 10 percent, but if PT Martina Berto Tbk is stagnant, people's purchasing power is not very good," said Bryan in Jakarta (2/8/2017).
Based on Nielsen data, fast moving goods sector which has 55 categories only grew about 4 percent. "You could say that is very bad because last year the growth could reach 11%," he explained.
According to Bryan, society limits spending on luxury goods and braking entertainment. They have money, but tend to hold shopping. Either for saving or for more priority purposes.
In the second half of this year, the lethargy in the herbal and cosmetic industries is expected to end. Some of the so-called aspects can lift performance in the second half of 2017. Especially the promo event conducted by modern retailers. "Hope it helps," he said.
In addition to the cosmetics industry, herbal industry feels the weight of performance in the first half of 2017. Chairman of the Association of Indonesian Herbal Medicine, Dwi Ranny Pertiwi Zarman revealed, the local herbal medicine industry increasingly pressed with imported products.
In fact, a number of small herbal medicine industries have to close because they have not been able to achieve the standards set by the government. For example, a business that is still a limited company can not compete with an open company.
"From 1200 entrepreneurs, now about 900 entrepreneurs when compared with the number of importers reached 1600 entrepreneurs," added Dwi.
One of the efforts taken by the government to excite the market of these industries is through the exhibition. Based on data from Ministry of Industry, there are 986 herb industry consisting of 102 traditional medicine industry (IOT) and small-scale traditional medicine (UKOT). The sector is able to absorb more than 15 million workers.
According to the Director General of IKM Industry Ministry Gati Wibawaningsih, 3 million workers are absorbed in the herbal medicine industry that serves as a medicine. Furthermore, 12 million workers are absorbed in the herbal medicine industry that is expanding into the food, beverage, cosmetics, spa and aromatherapy industries.