Election of Regional Head of West Kalimantan, Karolin Ready to Struggle Mechanization of Agriculture
By : Herry Barus And Aldo Bella Putra | Saturday, March 17 2018 - 22:00 IWST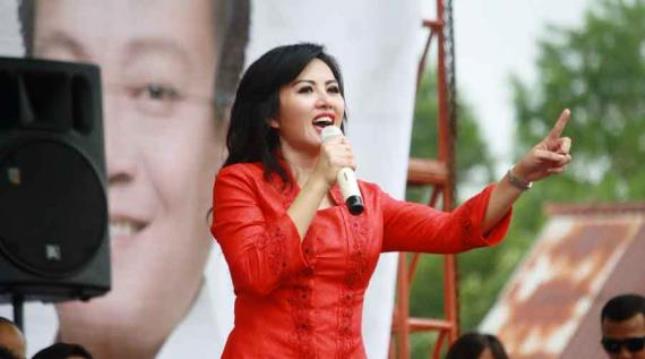 dr Karolin Margret Natasa Calon Gubernur Kalimantan Barat (Foto Dok Industry.co.id)
INDUSTRY.co.id - Pontianak - West Kalimantan Governor Candidate, Dr. Karolin Margret Natasa said it would fight for the mechanization of agriculture for farmers in the Terentang district to support the increase of agriculture in the sub-district.
"Agriculture is one of the seven priority programs that we will run when entrusted by the people of West Kalimantan to lead this province later," said Karolin during a dialogue with the people of Sungai Radak Village 1, District Terentang, Friday (16/3/2018).
According to him, agriculture in the Terentang district certainly has great potential to be developed, considering there are still many untapped land.
"To work on the land, if done with a good agricultural mechanism, of course its potential will be maximal.
During this time, said Karolin, Terentang become one of the vegetable-producing areas to meet the needs of the people of Kubu Raya and the city of Pontianak and surrounding areas.
"So far, 70 percent of the vegetables that circulate in Kubu Raya and Pontianak City, the postscript come from Terentang. For that, it is fitting if the development of existing agricultural land, as vegetable planting land," she said.
According to him, by looking at the large potential of vegetables in the Terentang District, will make vegetables become a superior program in improving the economy of the community.
"In addition to vegetables, agriculture and plantations will also be the main program for the Terentang District in improving the household economy, this is certainly what we will push, apart from existing infrastructure facilities, to sustain that potential," she said.
In the same place, Hamidi Togo, a community leader of Sungai Radak 1 Village said he entered the village 34 years ago as a resident of transmigration.
Most of the people there work as farmers and work on the land here. The agricultural potential developed by people other than rice, among others, corn, tubers, nuts and vegetables.
"We hope that when Karolin's mother was chosen as the Governor of West Kalimantan in order to fight for the transmigration community here, besides the means of agriculture, we also need transportation access which is still very limited, because transportation is one of the driving force of the society economy to bring the earth," she said.