West Kalimantan Governor Candidate Karolin Receives Surakarta Keraton Award
By : Herry Barus And Aldo Bella Putra | Thursday, April 12 2018 - 16:30 IWST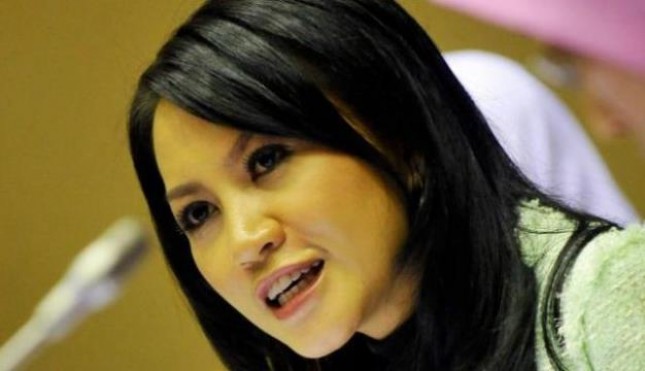 dr Karolin Margret Natasa ( Foto Batavianews)
INDUSTRY.co.id - Solo - West Kalimantan Governor Candidate number 2, Karolin Margret Natasa received an award from Kasunanan Surakarta with Kanjeng Mas Tumenggung dr.Karolin Margret Natasa Ningtyas.
The award was given by Kasunanan Surakarta Solo for the brilliance of Karolin's political career and his expertise in running the government program in Landak District. Although only served as Regent Landak for 7 months, but the acceleration of service and breakthrough in the field of government successfully performed by the mother of two children.
Through this award, Karolin is listed as a relative of the Royal Palace of Hadratiningrat and is responsible for unifying the archipelago, growing cultural values ​​and always communicating with the empire.
On the occasion, Karolin said she did not expect to get an award from the Surakarta Palace.
"For the indicators of my own appreciation, I am judged to have a brilliant political career, and do some buzz in the Landak government," she said, after receiving the award, in Solo, Wednesday night to the media crew. .
Upon that award, she stated would be a motivation for him to be better in the future.
"In accordance with the duties of the degree that I get, I will also do my best to unite the archipelago, to grow the cultural values, not just the Javanese culture, but all the existing cultures, especially those in West Kalimantan, so we can always be in one frame Bhinneka Tunggal Ika," said Karolin.
As is known, a number of breakthroughs made by Karolin when the Regent Landak, such as giving high attention to the development of the capacity of the State Civil Apparatus (ASN), so get the award from the Institute of State Administration (LAN), she also improved the Landak Hospital hospitals so that more and more people who acknowledged the hospital service is getting better.
Not only that, Karolin also considered to have accelerated in the improvement of financial statements to get the award from BPK RI.
In his political career, since she entered politics in 2008, he managed to record a remarkable achievement by becoming the third member of the House of Representatives with the most votes. Then in Pileg 2014 ago, Karolin managed to register his name as legislative candidates with the most votes in Indonesia.
Not to stop there, in elections landak 2017, he also managed to seize the landak community's confidence with 97.6 percent vote acquisition and listed himself as the first Women's Regent in Landak.