Combating Terrorism in Asia-Australia Needs a Hard and Soft Approach
By : Herry Barus And Aldo Bella Putra | Sunday, March 18 2018 - 22:07 IWST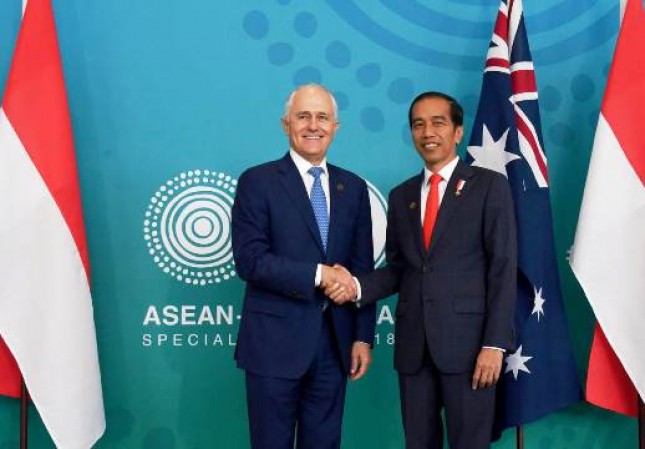 President Jokowi and PM Australia PM Turnbull (Photo (Photo: BPMI)
INDUSTRY.co.id - Sydney - President Joko Widodo stressed that the eradication of terrorism especially in Southeast Asia and Australia needs to use a hard approach and soft approach.
"The hard approach alone is not enough to overcome the threat of terrorism and radicalism and needs to be balanced with the soft approach, one of the most important is the preventive capacity," said President Joko Widodo while delivering his speech in the plenary session of the ASEAN-Australia Special Summit at the International Convention Center ICC), Sydney, Sunday (17/3/2018)
The President welcomed the signing of a memorandum of understanding "ASEAN-Australia MoU on Cooperation to Counter International Terrorism" signed on Saturday (17/3) as a strengthening efforts to combat the threat of terrorism.
"From my observations, this MoU emphasizes the balance between a hard and soft approach," the President added.
According to the Head of State, the failure of prevention will not only lead to casualties and other major losses, but trigger an unnecessary excessive reaction.
Thus, the capacity building cooperation in preventing the occurrence of attacks needs to be continuously improved.
With regard to the soft approach the President shares his experience of radicalization and counter-radicalization efforts in Indonesia that are "out of the box".
Exemplify the involvement of ex-convicted terrorism prisoners in order to prevent the growing threat of radicalism and terrorism.
The former inmates of terrorism were facilitated to meet with the victims' families.
"The former terrorist prisoners are currently assisting the government in spreading the values ​​of tolerance and peace and have become agents of the spread of tolerance and the value of peace," the President said.
With the help of former convicts, their families and neighborhoods are more easily converted into a tolerant and peaceful environment.
Closing his speech, President Jokowi said Indonesia has two major Islamic organizations namely Nahdlatul Ulama and Muhamadiyah who work together and greatly assist the government in spreading the value of tolerance and peace.
Especially for counter-radicalization, the President highlighted the importance of involving millennial youth.
"These young people have become effective 'envoys of peace' because they use the language their generation understands, and I hope that cooperation for the eradication of radicalism and terrorism will continue to be enhanced through both a hard approach and a soft approach." Indonesia is ready to contribute, the President said.
The President appreciates the active involvement of Australia and ASEAN in the fight against terrorism threats.
"I would like to express my appreciation to Australia for promoting counter-terrorism cooperation with ASEAN," counter-terrorism "cooperation is the concern of all countries, which is very understandable considering that the threat of terrorism has not been reduced, our region, "said the President.
One of the post-Marawi sub-regional cooperation initiated by Indonesia and Australia was also worked out by Malaysia, the Philippines, Brunei Darussalam and New Zealand as an example of rapid and effective cooperation.