Name Pramono Anung Called Setnov in Court of Corruption Court
By : Herry Barus And Aldo Bella Putra | Thursday, March 22 2018 - 16:00 IWST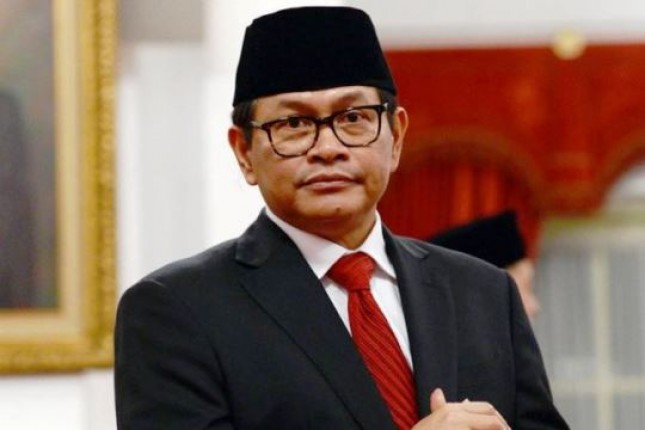 Sekretaris Kabinet Pramono Anung (Foto Ist)
INDUSTRY.co.id - Jakarta - Former Chairman of the House Setya Novanto claimed to have confirmed the nomination of money amounting to 500 thousand US dollars to former Vice Chairman of the House Pramono Anung.
"I met last in Solo, at Alila hotel, I asked because I am friendly with him as well, 'He is not right because Oka never said that', he (Pramono) say 'Ah which is yes? It was first, but try me later remember, in Jakarta we are talking, "said Setya Novanto (Setnov) while stumbling in the hearing of the defendant's examination in the court of corruption (Corruption) Jakarta, Thursday (23/3/2018).
The award was told by businessman Andi Narogong and Setnov's associate who is also businessman Made Oka Masagung when coming to meet Setnov's house in September-October 2012.
According to Made Oka, Puan Maharani who at that time served as Chairman of the PDIP faction and Pramono Anung who became Vice Chairman of the House got respectively 500 thousand US dollars.
"When did you ask Pramono?" asked prosecutor general Prosecutor (KPU) KPK Ahmad Burhanuddin.
"Three months ago at an official marriage ceremony in Solo," replied Setnov.
"If the Puan Maharani has confirmed?" asked Burhanuddin prosecutor.
"Not confirmed," Setnov replied.
In addition to Puan and Pramono, Made Oka and Andi also said there was money to other members of the House of Representatives who at that time were members of Commission II of the PDIP Arief Wibowo, Chairman of Budget Agency (Banggar) DPR, Melchias Markus Mekeng, Vice Chairman Banggar Tamsil Linrung, Vice Chairman Banggar Olly Dondokambey, Vice Chairman of Commission II Ganjar Pramono each 500 thousand US dollars and Chairman of the Democratic faction then Jafar Hafsah worth 250 thousand US dollars.
"Arif, Melekias Mekeng, Jafar Hafsah, Arif Wibowo once confirmed?" asked Burhanuddin prosecutor.
"I do not confirm," Setnov replied.
"If the money for Puan and Pram had known since 2012, if the others had already been delivered before?" asked Burhanuddin prosecutor.
"Just last night, when confronted with Irvanto," Setnov replied.
"Was delivered to Mr. Ganjar when met at the airport in Bali so do not be fierce?" asked Burhanuddin prosecutor.
"That's the time my trial said 'Eh he received the money,' he said (Ganjar), 'It's the same business as Chairuman, time in court I asked too and nothing to do not be fierce,' said Setnov.
"When do not talk fiercely delivered to Ganjar, is money already given to Ganjar?" Burhanuddin's prosecutor asked as quoted by Antara.
"Oh no, I've met Ganjar, I asked 'Eh kok just loe ngak fiercely, I never talked fierce, he laughed it, that I conveyed in my DPD a year ago," said Setnov.
However, he believes that money has reached the hands of Ganjar.
"I asked Mr. Chairuman, really not Ganjar received, according to Andi, he said if Andi said it would be true, 500 thousand US dollars, once also the deceased Mustoko Weni convey to me," replied Setnov.