Five Prosecutors Trapped OTT, Supervision System at the Attorney General Must Be Fixed
By : Aldo Bella Putra | Friday, August 04 2017 - 17:40 IWST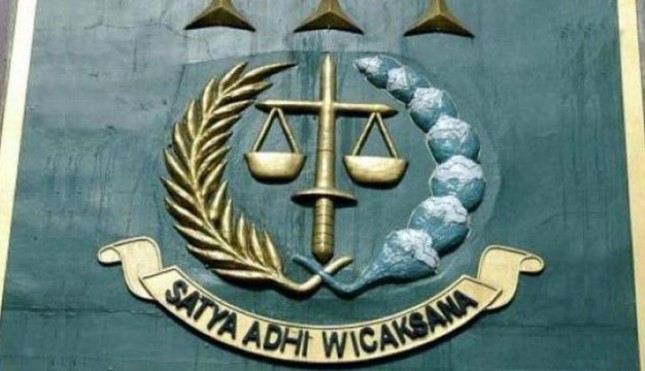 5166
INDUSTRY.co.id - Jakarta - The role of internal and external supervisors at the Attorney General should be improved as there are 12 people already caught in the KPK Operation Capture (OTT) and Saber Pungli team throughout the Attorney General HM Prasetyo's leadership.
"Supervision at the Attorney General's Office is still weak, where there is internal supervision in the Junior Attorney General's Office of Supervision and the Attorney General's Office of Supervision, there is inherent supervision, tiered supervision while external supervision there is the Prosecutor Commission, but with these two surveillance systems is it enough? Miko asked in a press conference in Jakarta on Friday.
On August 2nd, 2017, the KPK conducted a Hand Capture Operation (OTT) against the Chief Public Prosecutor (Kajari) Pamekasan Rudy Indra Prasetya and assigned him as a suspect in the case of alleged bribe acceptance of Rp250 million to stop the corruption case of Dassok village fund being investigated by Kajari Pamekasan.
With the arrest of Rudy, it means that there are five prosecutors who were arrested by KPK as long as HM Prasetyo served as Attorney General since 2014. There are still seven other prosecutors secured by saber pungli team since October 2016 until today.
"Supervision at the Attorney General's Office does not only require oversight but also enforcement, non-enforcement supervision will not be enough and it will not happen if the Attorney General does not open for change, so the supervisory system must be re-evaluated," Miko added as quoted by Antara.
In addition to monitoring systems, the ethical system also needs to be improved. The ethical system includes the code of ethics as well as the enforcement of ethical codes and ethical examination systems that must be independent and impartial.
"I do not think the ethics system at the Attorney is sufficiently able to address such a case, there should be an evaluation of the code of conduct including how the Attorney General's promotion and mutation system should not get the ethics attorney but still get promoted to strategic positions," Miko said.
Miko also requested that the Attorney General's Office focus on law enforcement rather than on other activities such as being part of a development acceleration escort team.
"Is the oversight system conducted by the Attorney General being the main consideration in the promotion and mutation? Otherwise it is not surprising that those sitting in strategic positions are actually problematic prosecutors. So this function of supervision is not a major consideration in mutation and promotion because the main one is seniority and proximity to the leadership, whereas this is a close variable 'moral hazard' and should be kept away," Miko added.
While researcher from Indonesian Law Monitoring Society Faculty of Law University of Indonesia (Mappi FH UI) Muhammad Rizaldi admitted that external supervision through Commission of Attorney not yet toothed.
"The Attorney General's Office also needs to have teeth when it comes to prosecutorial prosecutions in the regions because the Prosecutorial Commission only exists in the capital, whereas in the regions there is only an inherent supervision," Rizaldi said in the same event.
He hoped that the results of the investigation by the Prosecutor Commission should be dealt with firmly by the Attorney General's Office and should not only be a pile of files.
"And if we look at the current system, the Attorney General's Commission should not be filled with people who are also from the Attorney's Office so that it is structurally balanced, there needs to be a system evaluation in the Attorney that can provide discretion to those who prosecute since there are still many found- Kajari who interact and make a sale and purchase a case, " added Rizaldi.
Five prosecutors throughout the leadership of Attorney General HM Prasetyo who was arrested by KPK are:
1. Prosecutor Fahri Nurmalo from Kejati Central Java who received a bribe from the Regent of Subang so that the regents are not mentioned in the case
2. Attorney Deviatni Rohaini from Kejati West Java who accepted bribes with prosecutor Fahri in handling cases misuse of funds BPJS Subang district
3. Prosecutor Fahrizal Kejati West Sumatra who received bribes from the President Director of CV Semesta Berjaya and sentenced to 5 years
4. Attorney Parlin Purba, Kejati Bengkulu Receive bribes related to data collection and information corruption irrigation development project in Bengkulu
5. Attorney Rudi Indra Prasetya from Kejari Pamekasan who was arrested in OTT 2 August 2017 related to the case of Aloakasi Pemekasan village fund.