Social Minister Stunned Seeing Child Intelligence PKH
By : Herry Barus And Aldo Bella Putra | Saturday, April 14 2018 - 16:30 IWST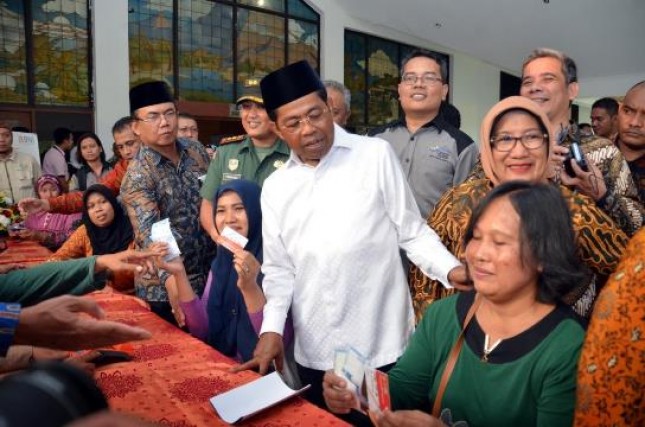 Mensos Idrus Marhamm (Foto Dok Industry.co.id)
INDUSTRY.co.id - Cibinong - Minister of Social Affairs Idrus Marham is stunned against the children of the Family Hope Program (PKH) family who are very aware of the usefulness of PKH social assistance money.
"There is a child PKH kok really understand the use of PKH money, even the mother-mother who used to take help even no one wants to explain, extraordinary applause for our sister," said Idrus to Farita.
Farita is a Child beneficiary Family (KPM) PKH loudly answering questions from the Minister of Social Services about the use of PKH money. "Who knows the use of PKH money," asked Social Minister to PKH participants who attended the House Tegar Beriman Bogor District.
The minister looked at the mothers, hoping someone would answer the question, suddenly from the front row of a hooded girl holding up a finger saying, "I am sir."
"Let's go ahead and explain what the use of PKH is," Idrus asked.
"Introduce my name Farita Ramadhanty from Jasinga sub-district," said Farita's opening start answering Idrus's question.
"I am here to get a scholarship from PKH itself, I study at IPB Department of Animal Technology and Management, here I will explain a little about Program Keluarga Harapan," he continued.
"Well Hope Family Program is the main purpose for schoolchildren, so to educate the Indonesian nation I strongly agree because with the PKH from 2007 that was not able to school because cannot buy clothes, with the PKH thank God can buy clothes, can buy a book even school that usually pay, if have a PKH card in 100% free," said Farita loudly applauded applause by the attendees in attendance.
Spontaneous Idrus also said will provide additional bonus to all achieving children who are here. "In accordance with the order of President Jokowi for the achievement of children is given rewards and bonuses," said Social Minister.
Attending the event were Bogor Nurhayanti Regent, Chief of Police, Dandim, Chief of Kejari, Head of District Court of Bogor and other Forkompinda ranks.
Regent Bogor Nurhayanti in his speech support programs run by the Ministry of Social Affairs, because in line with RPJMD Bogor Regency Year 2013-2018.
"One of the indicators that we want to achieve from 25 indicators that we set in the RPJMD is to reduce poverty, with various programs and activities such as those run by the Ministry of Social that is PKH," said Nurhayati
Meanwhile, the Director General of Protection and Social Security stated that KPM PKH in West Java Province in 2018 is 1,615,631 KPM and 2,516,981 Family Receiving Food Social Welfare (Bansos Rastra).
"PKH beneficiaries in Bogor Regency 2018 as much as 141 278 KPM worth 267.1 billion, this is the largest in West Java Province," he added.
Meanwhile, for Social Assistance of Rice Wealth (Bansos Rastra) Rp. 226.3 billion for 171,483 families is the second largest after Cianjur. "All social assistance for Bogor Regency in 2018 is Rp 493.5 billion," said Harry.