Baznas Cooperates with BNPB Standby Campaign with Share
By : Nina Karlita And Aldo Bella Putra | Sunday, April 15 2018 - 16:00 IWST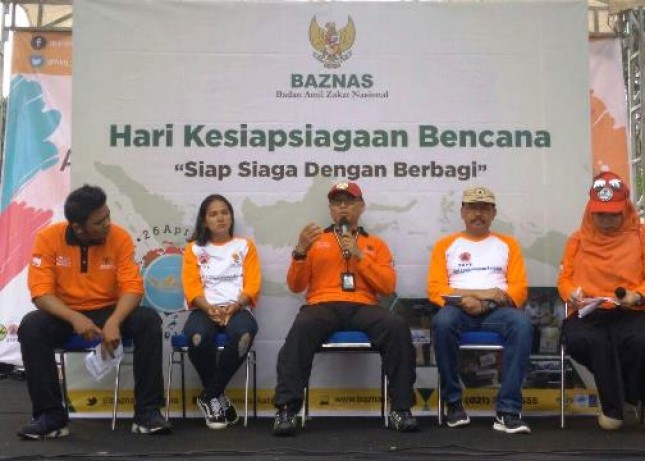 Baznas Gandeng BNPB Kampanye Siaga dengan Berbagi (Foto Dok Industry.co.id)
INDUSTRY.co.id - Jakarta - In order to meet the Disaster Preparedness Day which falls on April 26, the National Amil Zakat Agency (BAZNAS) cooperates with the National Disaster Management Agency (BNPB) to campaign for the collection of zakat, infak and alms (ZIS) for disaster management.
It was raised in a talk show titled "Ready Alert by Sharing" in the Car Free Day (CFD) Jakarta, Sunday (15/4/2018). Present as resource person, Director of BAZNAS Disaster Response (BTB); Ahmad Fikri, Deputy of Prevention and Preparedness of BNPB, Bernardus Wisnu Widjaja; artist Annisa Malati and artist Stand Up Comedy, M. Al Jupri.
"BTB is the institution of the BAZNAS program established for disaster management BTB now also exist in the regional BAZNAS, BTB together with BNPB to campaign to the community about the urgency to change the disaster paradigm from response to prevention," said Ahmad Fikri.
He mentioned, BTB has many programs such as School River, School Safe Disaster, Village Disaster Response, BTB Goes to School, and so on.
Scout movement activists who often cross the world, explains, BTB has many active roles in humanitarian activities.
"Coordinating with the Ministry of Foreign Affairs and BNPB, BTB helped Rohingya refugees in Myanmar and Bangladesh, Asmat Papua crisis, Mount Agung Bali refugees, Jakarta and Jakarta floods, landslides and so on," Fikri said.
He added that during 2016 there were 2,342 disasters, up 35 percent compared to 2015. Toward the turn of the year, Fikri said quoting BNPB, the recapitulation of various events showed an increase in disaster in Indonesia. From the data collected shows that the number of disasters in 2016 reached 2,342 events. This figure is the highest since the recording of the disaster in 2002.
"The number of disaster occurrences from the data has resulted in the large number of people affected by the disaster, recorded during 2017, 3.2 million refugees. The high number of refugees can affect the increasing number of poor people. Around 80 percent of people affected by these natural disasters finally status so poor again alias 'jamila', although before they have entered the prosperous category," he said.
Fikri explained that BAZNAS also encourages the realization of Sustainable Development Goals (SDGs).
"To achieve the goal of SDGs, which is zero poverty, can be done through disaster risk reduction, one of them is by campaigning the disaster preparedness paradigm in the community so that the number of affected people will decrease because they have been aware and ready to be alert when disaster occurs," said Fikri.
Survey results in Japan at the Great Hanshin Awaji earthquake of 1995, he added, indicating that the percentage of survivors in the duration of "golden time" due to several things.
First, Fikri explained, self-preparedness of 34.9 percent. Second, the support of family members is 31.9 percent. Third, friends or neighbors 28.1 percent. Fourth, people pass 2.60 percent. Fifth, the rescue team is 1.70 percent. And the six others are 0.90 percent.
"Based on the illustration, it is very clear that the most decisive factor is the mastery of the rescue knowledge possessed by 'self', the family and surrounding communities," Fikri said.
Therefore, according to him, one of the capacity buildings of community awareness and preparedness in dealing with disaster is through education program.
"This is what encourages BAZNAS to hold campaigns and socialization, among others through talk shows," he said.
This talk show program, Fikri said aims to improve the community capacity in mitigation and preparedness in facing the surrounding disaster.
With this, he added, the community can take actions that can reduce the risk of disaster and understand what to do when a disaster occurs.
"For BAZNAS as a zakat-based philanthropy institution, this program can show the existence of institutions in diversity of distribution form so that it can increase the interest of the community in channeling their funds to BAZNAS," said Fikri.
A paradigm shift
The same thing was conveyed by Deputy of Prevention and Preparedness BNPB, Bernardus Wisnu Widjaja who appeared with the paper "Building Disaster Preparedness Culture at Family and Community Level".
Bernard asserted all elements of the general public and the ranks of government need to change the paradigm of disaster management from response to prevention (prevention).
"Our disaster paradigm has changed from response to preparedness, and the history of institutional transformation of disaster management began after the tsunami disaster in Aceh in 2004," he said.
BNPB deputy explained, in the first phase of the year 2004-2009 is a period of strengthening the commitment related to national disaster management. Therefore, the government issued Law No. 24/2007 on Disaster Management with a mandate to establish BNPB at the central level and regional level BPBD from province to district / city.
The task of BNPB is to develop inclusive policies related to disaster management aka disaster mitigation and disaster response. This means that BNPB is mandated to coordinate with all ministries / agencies implementing disaster response policies.
"We can monitor all ministries / agencies to carry out the command, we monitor all ministries / institutional policies since Indonesia is a disaster supermarket so it needs to be carefully anticipated and integrated, and we should not only ask for help when there is a disaster," said Bernardus Wisnu Widjaja.
Disaster management in addition to strengthening inter-institutional coordination and empowering the community element is to strengthen the planning or look at the threat / potential disasters that lurk Indonesia during this time.
Bernardus Wisnu Widjaja explained, since BNPB was formed also serves as a disaster laboratory. Even many institutions and countries are learning about disaster management system at BNPB. To that end, the United Nations (UN) awarded the Global Champion to BNPB related to disaster management.
"Not only that, BNPB can provide ISO certification to institutions that are able to pay attention to disaster management system," said Wisnu.
Starting from 2015-2019 BNPB was asked to increase effectiveness considering the average loss of disaster per year reached Rp 30 trillion. Because, experience in some countries when not ready to face disaster then its economic growth directly decline.
BNPB priority target in reducing disaster risk. First, reduce infrastructure damage; second, reduce the number of losses suffered and the third reduce the number of people affected by the disaster.
In addition there are four BNPB action priorities for communities to understand disaster risks, strengthen disaster risk management and disaster risk management, invest in risk reduction, and improve disaster preparedness for effective response.