Ministry of Agriculture Cultivation Checks of Garlic Imported Seeds in Temanggung
By : Wiyanto Dan Aldo Bella Putra | Friday, April 20 2018 - 18:30 IWST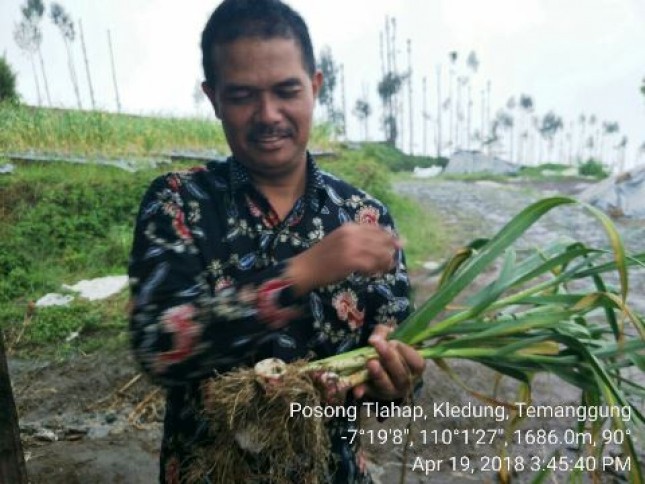 Dirjen Hortikultura Kementan Suwandi (Foto Dok Industry.co.id)
INDUSTRY.co.id - Temanggung - Director General (Director General) Horticulture, Ministry of Agriculture (Kementan), Suwandi, had the opportunity to see garlic plantation in Posong village, Kledung district, Temanggung regency. This is to ensure the development of garlic crops from imported seeds.
The visit was done after accompanying the Working Visit of Commission 4 of DPR RI in order to see garlic cultivation conducted in Temanggung.
"Importers are obliged to plant 5% of their RIPH volume. In fact, the delegation of Commission IV of the House of Representatives stated that the planting obligation is not only 5 percent, but added to be at least 20 percent." This is an input to be considered," said Suwandi in Temanggung, Friday (20 / 4/2018).

Despite the rain and fog conditions, Wandi still wants to see imported garlic crops as a 5 percent planting obligation located on the slopes of Sindoro Mountain at an altitude of 1400 meters from sea level.
"The garlic seed from Taiwan was able to grow well, and produced the bulb," he added.
"This planting of imported seeds grows well, similar crops grown in East Lombok also grow well and bulb" he continued
To increase the area of ​​garlic cultivation, besides being filled from local seeds of farmers' production, Wandi also encourages importers to buy seeds from outside if domestic is not enough.
"Currently, which is suitable and can be bulb in Indonesia is from Taiwan, India and Egypt. Another one which is suitable match that is from Yunnan, China .But now still in the test process first," he said.
Policy Minister of Agriculture Andi Amran Sulaiman declares garlic self-sufficiency in 2021. The planting target for self-sufficiency is 78,500 hectares, of which 13,500 hectares is for seed.
"To achieve self-sufficiency is currently focused on seed. Therefore, if the local seed is not enough, the permit to import the seed will be done to support self-sufficiency," said Suwandi.