Property Sector Increases, Sinar Mas Land - Shimizu Corporation Builds Luxury Apartments
By : Ahmad Fadli And Aldi Firhand. A | Monday, August 07 2017 - 11:33 IWST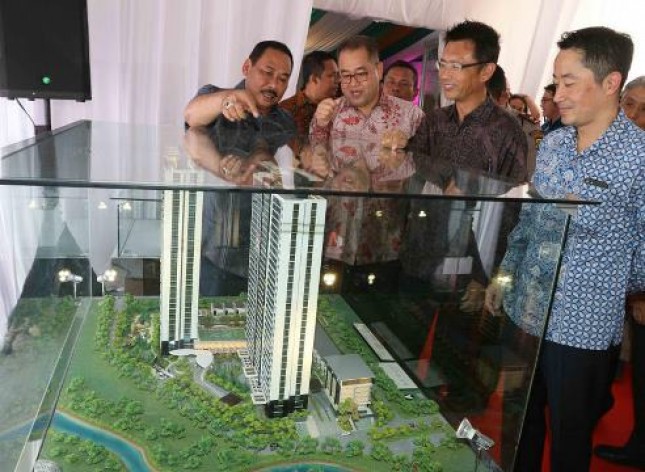 Sinar Mas Land Together with Itochu and ShimizuCorporation
INDUSTRY.co.id - Jakarta - Sinar Mas Land together with Itochu and Shimizu Corporation held a groundbreaking ceremony of Aerium Apartment at Taman Permata Buana Sunday (6/8/2017).
The groundbreaking ceremony was marked by a Japanese ritual procession, Iichinsai. Some directors of Sinar Mas Land attended this event, among others, Ishak Chandra (CEOStrategic Development and Services Sinar Mas Land), Hongky J Nantung (Commercial CEO of Sinar Mas Land).
Meanwhile, representatives from Itochu Corporation, Atsushi Sekiguchi (General Manager of Construction, Realty Department), Osamu Funaki (Vice President Director, PT Itochu Indonesia) and from Shimizu Corporation, Haruhiko Washimi (Deputy Managing Director and General Manager of International Investment Department) And Satoshi Arai (Country Head International Investment Department).
Aerium Apartment at Taman Permata Buana. Is a joint venture between Sinar Mas Land and two leading companies from Japan namely Itochu and Shimizu Corporation.
The project cost up to approximately Rp 1.5 trillion. Construction work will be done by one of Indonesia's leading contractors namely PT. Total Bangun Persada Tbk. The plan to build Aerium Apartment in Taman Permata Buana will be completed in 2020.
Sinar Mas Land's collaboration with Itochu and Shimizu Corporation in the development and marketing of Aerium Apartment at Taman Permata Buana is expected to be the best international collaboration project that can improve product quality and improve competitiveness in real-estatemarket.
Ishak Chandra CEO of Strategic Development and Services Sinar Mas Land in today's press release explains "Sinar Mas Land through groundbreaking today again presents residential luxury apartments in Jakarta precisely in one of the prestigious areas of Puri Kembangan, West Jakarta. We always strive to deliver the best exclusive vertical dwelling in accordance with the needs of today's society, which is why we are working with Itochu Corporation and Shimizu Corporation and one of the best contractors in Indonesia namely PT. Total Bangun Persada Tbk to realize a classy residence that offers convenience and comfort while supporting the lifestyle of its inhabitants. "He said
Aerium Apartment in Taman Permata Buanamengusung family living concept. Bringing the "A Breath of Fresh Air" line by blending natural and sophisticated technology to give the impression of peace, comfort and exclusive security.
Aerium Apartment has two premium apartment towers and townhouses that stand on an area of ​​1.8 ha in a high class residential area close to public facilities such as shopping malls, office areas, hospitals, places of worship, international schools and direct access to the whole Jabodetabek Toll road to make this dream dwelling worth high investment.
Green Vertical Occupancy
Apartment that apply the concept of family living today is often the main consideration of urban Jakarta in choosing ideal dwelling, therefore Apartment Aerium in Taman Permata Buana comes with the concept of a comfortable, exclusive and complete residential facilities to answer the needs of the community.
Each apartment and townhouse unit is also designed to incorporate an all-green lifestyle and natural contact, suitable for improving harmonious living quality, in harmony with the balance of the living environment.
Aerium Apartment at Taman Permata Buana is a perfect residential option that can provide relaxation from the dense daily routine as well as the hustle and bustle of the city, inspired by this residential aerium plant adopting the concept of open space "A Breath of Fresh Air" with the concept of sky garden in every four Floors and semi-open corridors on each floor.
Approximately 75% of the total area of ​​the apartement is allocated for green open spaces and outdoor facilities so as to provide a good air circulation space and blend with nature for its inhabitants.