Reach US $ 5.36 Billion, Leather and Footwear Exports Exceeds World Export Value Growth
By : Ridwan And Aldi Firhand. A | Saturday, May 05 2018 - 22:25 IWST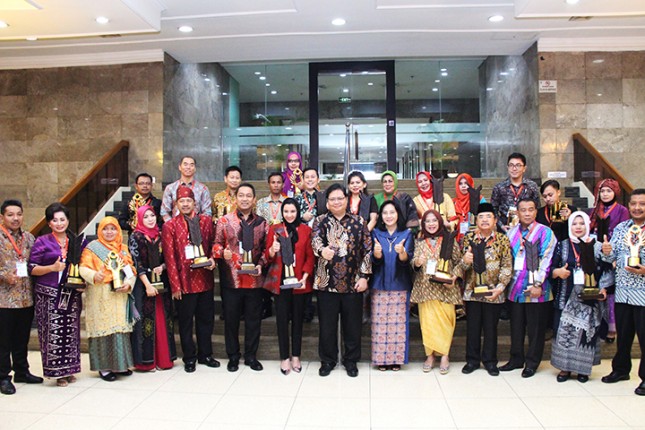 Minister of Industry, Airlangga Hartarto with Director General IKM Kemenperin, Gati Wibawaningsih and recipients of Industrial Awards
INDUSTRY.co.id - Jakarta, Data Trade Map shows the export growth of leather, leather finished goods and footwear grew 6.53 percent in 2017 to 5.36 billion US dollars from 5.01 billion US dollars in the previous year.
"The improvement of Indonesia's export performance exceeds the growth of world export value which is only 0.19 percent," said Director General of Small and Medium Industry Gati Wibawaningsih through his statement in Jakarta (4/5/2018).
Gati said the increase is clearly a big hope for the footwear and leather goods industry.
"This shows that Indonesia's leather, finished leather and footwear industries have the power of competitiveness above the world average," she said.
According to Gati, the growth of footwear industry in Indonesia is currently growing rapidly, seen from the distribution of IKM footwear in Indonesia which reached approximately 32,562 IKM with the distribution of labor as much as 113,907.
In macro, in the period of five years (2012-2016) there is a significant increase in consumption per capita Indonesian society to footwear that originally only 1.8 pairs to 3.3 pairs per year.
"Looking at the current market portrait, it means that the average shoe requirement of Indonesian people is more than 3 pairs per year. And in the future footwear consumption will increase along with population growth and the level of prosperity (purchasing power), "explained Gati.
Furthermore, she said, the sector grew by 8.51 percent in 2016. Viewed from its contribution, this sector has contributed a national GDP of 1.56 percent in 2016 from the non-oil sector.
Looking at the data of export value achievement by the end of 2016, for the footwear sector is at 4.65 million US dollars, which means the footwear sector continues to surplus and increase from 2015 to 4.50 million US dollars.
Based on World Footwear Market 2016, Asia still dominates 87 percent of world footwear production, and Indonesia is in 4th position with total production of 1 billion pairs more or about 4.4 percent contribution of world footwear production.
In line with this, improved economies of developed countries, especially the United States (US) have a positive impact on the export of national textile products.
Data from the Central Bureau of Statistics (BPS) shows that Indonesia's apparel exports in 2017 grew 9.89 percent to 7.93 billion US dollars, or about Rp 107 trillion from a year earlier.
That number surpassed the value of exports in 2013, which was 7.43 billion US dollars and became the largest in the last 5 years.
Gati said the current global competition condition is increasingly open, so the industry is required to increase its competitiveness, either through quality improvement or product standards required by buyers with efficient production management system.
"It is expected that Indonesian products will continue to compete in the global market," Gati concluded.