Up 10.47 Percent, Footwear Industry Increases Banten Non-Oil Export
By : Ridwan And Aldi Firhand. A | Thursday, May 17 2018 - 21:42 IWST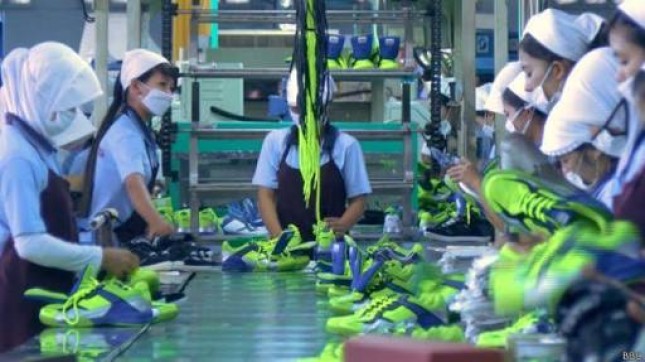 Shoes Production
INDUSTRY.co.id - Banten, footwear industries such as sandals and shoes have a big hand in boosting non-oil exports in the province of Banten which in March 2018 rose 10.47 percent.
"As a province with quite a lot of footwear industry spread in Cikande Area, Serang Regency and Tangerang Regency, in March 2018 Banten was able to export footwear to various countries with a value of 221.50 million US dollars, followed by plastics and plastic goods worth 81, 69 million US dollars and iron and steel of 68.28 million dollars, "said Central Statistics Agency (BPS) Banten Agoes Soebeno in Serang, Banten (16/5/2018).
He added that footwear is the mainstay of Banten products for export orientation, even every month the value of footwear exports is always above 100 million US dollars, among others to the United States and a number of European countries.
In March 2018, Banten was able to export various products with a value of 987.87 million US dollars, up 10.47 percent compared to the previous month which recorded 894.23 million US dollars.
The biggest influence of Banten exports in the month was an increase in non-oil exports by 8.87 percent compared to February 2018, from 892.62 million US dollars to 971.76 million US dollars. Meanwhile, oil and gas exports rose 901.34 percent from 1.61 million US dollars to 16.10 million US dollars.
"Especially for oil and gas exports, the increase is due to the export value of oil and gas commodities that have increased, given the crude oil commodity there is no export activity in March 2018,"
The value of non-oil / non-gas exports for ten categories of goods reached 679.63 million US dollars, while for other goods category of 292.13 million US dollars. "Six of the ten main non-oil / gas export categories in March 2018 increased," said Soebono.
The highest increase in export value came from the iron and steel category followed by footwear with an increase of 41.47 million US dollars and 26.57 million US dollars, respectively. On the other hand, the lowest export increase occurred on paper / carton which only increased by 1.46 million US dollars.
Meanwhile, the highest decline in export value occurred in organic chemicals with a decrease of 5.37 million US dollars. While on the other three goods there is a decline in export value, each less than 2 million US dollars, said Soebeno.
The largest non-oil export destination in March 2018 was the United States with export value of 187.41 million US dollars, followed by China and Japan of 101.11 million US dollars and 79.42 million US dollars.
"Meanwhile, for the purpose of ASEAN countries and EU countries respectively 219.32 million US dollars and 96.33 million US dollars," lid Soebono.