Investigate Tapping Interpreter and Recording Spreader of Rini Soemarno-Sofyan Basir
By : Anisa Triyuli And Aldo Bella Putra | Monday, May 07 2018 - 16:30 IWST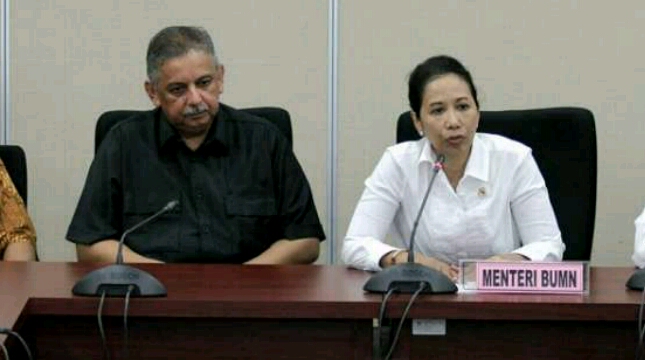 Direktur Utama PT PLN Sofyan Basir dan Menteri BUMN Rini Soemarno
INDUSTRY.co.id - Jakarta - The busy circulation of conversations that have been edited and added a slanderous narrative between SOE Minister Rini Soemarno and PLN President Director Sofyan Basyir, should be a serious concern of the Police to reveal the "mastermind" behind the illegal tapping action.
The action is an illegal act of wiretapping and against the law. If people caliber minister BUMN only they can tap as they let alone ordinary people ?.
"We urge the police to act quickly to investigate the illegal wiretapping action and the spread of the hoax is clearly violating the law," said Arief Rachman, Executive Director of Sentra Indonesia, Monday (7/5/2018)
Further said by Arief, it is necessary to emphasize the importance of protecting private rights in communicating. This issue must be clearly expressed in order for security in communicating to guarantee every citizen fulfilled privacy rights.
"Yaya suspects the tapping and dissemination of information hoax is a party ambitious with the position of Rini Soemarno as Minister of SOEs. Strategic position is very precisely diemban Rini Soemarno, "said Arif.
So far, the performance of SOE Minister is very good. State-owned enterprises now have a big role in the development process and prospering the people. This is thanks to the hard work of SOE Minister Rini Soemarno along with all other state-owned companies.
Everyone knows, long before serving in government, the work of Rini Soemarno in private company is very bright. There is no impression for me, people like Rini Soemarno crazy positions let alone so far he is very professional and hardworking person.
The trust given by President Jokowi in carrying out his mandate as the Minister of State-Owned Enterprises should be supported because there is an effort to strengthen and improve the SOEs with measurable targets. Rini Soemarno is one of Indonesia's great women who deserves appreciation.